Across the Line
(2000)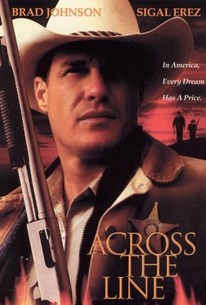 AUDIENCE SCORE
Critic Consensus: No consensus yet.
Movie Info
Educated and with a promising career, Miranda (Sigal Erez) finds her life in Mexico shattered by corrupt officials, causing her to take flight across the Rio Grande into Texas with other illegal immigrants. With no possessions or money, Miranda finds herself in the desert separated from her protective brothers. The opportunity arises to hide in the Winnebago of a pair of American tourists, but the tourists are witness to a horrific crime: A drug deal has gone wrong and a half-dozen mobsters are slaughtered by corrupt U.S. Border Guard patrolmen. With a policy of not permitting any witnesses to escape, the renegade patrolmen then kill the tourists at point blank and with the hidden Miranda as a witness. Eventually Miranda finds a job as a waitress in a diner where she befriends the local sheriff, Grant (Brad Johnson); when Grant learns what Miranda has seen, he becomes his key witness' protector -- and, eventually, her lover -- as the ruthless patrolmen close in for the kill. What Grant doesn't know is that the leader of the murderous cops is closer to him than he thinks.
Critic Reviews for Across the Line
There are no critic reviews yet for Across the Line. Keep checking Rotten Tomatoes for updates!
Audience Reviews for Across the Line
½
If It Crosses The Line, It Had Good Reason Back when Across the Line released, there was a surprising amount of controversy over whether it (hehe) crossed a line itself. Some heralded the film as a sympathetic portrayal of illegal immigrants, humanizing an underrepresented demographic much-maligned not only in America but across the globe. Others lambasted the film for turning a profit off the misery and debasement of a vulnerable population. Someone claims on the film's Wikipedia page that it isn't an 'overtly' political film. I suspect that 'someone' was directly involved with the movie itself, either on the marketing or production end. Maybe the heat scared them; maybe they didn't think it was the sort of controversy which sold movies. Let me state unequivocally that this is an overtly political film by its very nature. Before we dig into the review at large, allow me to put a question out to the universe regarding these detractors. Do we blame documentaries for putting food on their makers' tables? If a film brings attention to the plot of landmine victims in Cambodia, or genocide survivors in Rwanda, do we blame them for recouping expenses? Do we expect anyone to make art for free? Or, if it's the fact that these nay-sayers were entertained which bothered them so, would anyone have seen an intentionally dull, boring movie? Good. Glad we got that out of the way. Across The Line revolves around split narratives which inevitably collide. The first follows Miranda (Sigal Erez), a young woman fleeing into Texas after the corrupt military in her home-country forces her into exile. Miranda faces double-dealing coyotes (smugglers who specialize in transporting people) along with trigger-happy border patrol, and of course the grueling desert terrain itself. The men who wanted her dead back home are hot on her trail; her single desire and hope is to escape their reach in America and forge a new life for herself. Sheriff Johnson (Brad Johnson), conversely, is a small-town lawman caught up in borderland violence and up for reelection in just a few days. He's no stranger to the hinterland drama, and we get the impression that the Everyman is strong with this one: his only desire is to serve and protect his constituents, and unlike some of the border patrol officers who operate in his jurisdiction, he takes no joy in the unsavory duties of apprehending and arresting migrants. Right off the bat I wanted to hate Johnson. Speaking personally as a reformed hippie, retired hitchhiker, and lifetime pedestrian, I've had far more unnecessary encounters with small-town sheriffs than one would think possible for a white male not actively engaged in any criminal enterprise. If you showed a cobra a film about a mongoose, his first instinct would probably be to spit and strike, too. But the filmmakers, in a clever case of plausible deniability, dispelled my own personal biases with a single stroke of startling genius. The moment Johnson trots onto stage, he's smoking a hand-rolled cigarette. Is there something a little whackier than tobacco in there? I'm sure the filmmakers would say it's open to interpretation. But me, I'm sold. This guy isn't like other sheriffs I know. My bias is immediately overcome with a single seemingly innocuous image. Throughout the film, it's subtle moments like these which defeat our own preconceptions and prejudices, often with surprising emotional nuance. Miranda, while struggling through her ordeal on the border, witnesses a brutal murder. Though she survives and escapes, managing to blend in Texas thanks to her hiccup-free English, her guilt and internal struggle are obvious from Erez's every expression. Miranda's only just arrived in America, and the two people who've shown her even an ounce of kindness are dead as a direct result of helping her. Coming forward, however, endangers her on every level. Not only would she blow her one shot at building some semblance of a normal life for herself in America, but she'd expose herself to these very dangers she's fought so hard to escape. I was surprised to find Erez's Wiki and IMDb pages all but empty; she unfortunately falls into that category of actors who brought brilliance to an indie production like Across The Line which never quite materialized into any wide success, be that in the commercial or indie space. As a strong female lead she deserves nothing but the highest accolades. As Sheriff Johnson investigates the murder (and the two storylines converge towards their eventual intersection), we can't help but root for him. Again, there's little love lost between myself and law-enforcement, but the realistic, full-spectrum portrait of Texas LEO's further softened my repulsion. In the border-patrol we've got the naive rookie along with the gung-ho insensitive veteran, balanced by a few in-between, and then there's Johnson himself. He's got multiple murders on his hands, a killer on the loose. The sleazeball running against him in the election (who clearly has nobody's interest but his own in mind) sees the blood in the streets as a perfect opportunity to launch an attack on everyman Johnson's incumbency. And all he wants to do is what's right. Johnson doesn't give a damn about the election. In his eyes there's right, and there's wrong. We aren't wrong in expecting he'll apply that same morality to Miranda and her situation once they meet. Johnson struggles with intrusive media, dangerous criminals, his own trigger-happy forces, and his looming election as he tries to solve the murders and bring the killers to justice. Without spoiling anything, I can say that the moment when these two storylines finally meet is silently explosive. It was everything I hoped for and more. Johnson and Miranda, two characters from very different backgrounds, have both had their lives upended by these events, and the payoff when their paths crossed is profound. Writers, directors, actors - everyone involved - worked magic to bring emotional complexity to a story which some big Hollywood producers would have happily butchered in the name of 'mass appeal'. I cannot refute the film's detractors in strong enough terms. The material is anything but exploitative. They could have gone Michael Bay with this one; they could have played to the lowest common denominator; they could have made more money by softening the political edges. But they didn't, for which they are owed in my eyes our highest respect as viewers. Across The Line forced me to honestly reevaluate my own beliefs (no easy task, my girlfriend would tell you). It sheds light on a topic shrouded in darkness and sometimes actively pushed out of the American dialogue. It humanizes illegal immigrants who've been actively dehumanized across the globe by powerful, moneyed interests, often for nothing more than cheap political points. Above all, it tackles this subject while never failing to entertain, and never preaching. I told myself I'd never write a politicized review. Perhaps here I've broken that promise to myself. But Across The Line simultaneously weaves an enthralling narrative while raising hard questions: the very least I owe it is to do the same, and write an honest review which doesn't shy away from the issue at hand.
Elliss Dee
Across the Line Quotes
There are no approved quotes yet for this movie.
Discussion Forum
Discuss Across the Line on our Movie forum!