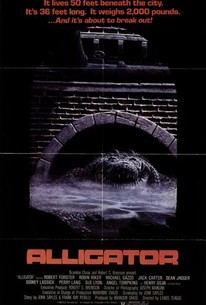 Alligator
1980, Horror/Mystery & thriller, 1h 34m
25 Reviews
2,500+ Ratings
Where to watch
Rent/buy
Rent/buy
Rent/buy
Rate And Review
Movie Info
A herpetologist (Robin Riker) helps a detective (Robert Forster) track her flushed-away pet, now a king-size mutant called Ramone.
Rating: R

Genre: Horror, Mystery & thriller

Original Language: English

Director: Lewis Teague

Producer: Brandon Chase

Release Date (Theaters): original

Release Date (Streaming):

Runtime:
News & Interviews for Alligator
Audience Reviews for Alligator
Genuinely surprised by how much I enjoyed this one. The best giant croc (Well I mean, it's an alligator, but in terms of what you can do with them in a horror movie, they're really the same thing) creature feature I've seen since Rogue. I wish someone was still making movies like this one.

Before he launched an art-house directing career, John Sayles wrote a plethora of wiseacre, cunning horror-comedies for Roger Corman such as 'Piranha' and this gruesomely funny gem. Robert Forster is street-wise and unerringly charismatic as the detective who is investigating the string of sewer-based slayings and in a self-deprecating lack of seriousness, Forster's receding hairline is the subject of multifarious jabs. Sayles upends the old adage about flushing an alligator down the toilet and transforms it into a darkly humorous cautionary tale. For the most part, the alligator skulks through the shadows but once it is unveiled, the combination of animatronics and an alligator on a scale model, is an impressive feat. Perhaps the most pungent contribution of Sayles' screenplay is that if one were to extract the alligator scenes entirely, 'Alligator' would still be a exceedingly frolicsome satire of the New York lifestyle (Forster casually disarms a perpetrator with a makeshift "bomb" strapped to his chest as if it is a matter-of-fact occurrence). Teague rachets up the palpable suspense in many of the subterranean scenes (without a musical stinger to accompany it, the alligator can seen in the underground backdrop like a subliminal image). Henry Silva materializes midway through as a big-game hunter and his scenery-chewing hamminess is a joy to behold. Unlike the sublethal piranha, "Ramon" (as he dubbed earlier in the film) constitutes a baleful threat. Of the 'Jaws' imitators in the late 70's and early 80's, 'Alligator' is a wonderfully facetious addition that doesn't skimp on the offbeat humor or referential jokes (graffiti stating that "Harry Lime Lives" is spray-painted on a wall).

I love nature gone wild horror flicks. There's a certain appeal to killer animal films that just makes that genre of horror so memorable. Director Lewis Teague has made one of the classic gator flicks, years before films like Rogue and Lake Placid took to the screens. Alligator is fun monster horror flick about a killer alligator that terrorizes a town. This is a very good film that is pretty underrated. If you enjoy good old' fashioned cheesy monster films, then this is the perfect film to watch. As far as killer creature films are concerned, this is the most entertaining since 1976's Grizzly. There's plenty of good gruesome moments in this film to appeal to horror fans. If you love creature features, then check this one out. The cast do a good job and there's plenty of effective suspenseful moments to thrill you. This is a terrific B movie. it's a very enjoying film from start to finish. It's a well written, well directed from Lewis Teague, who also directed Cujo. It's very entertaining, and is a film that should get more exposure. Alligator is underrated and is a must see for fans who enjoy a good killer creature flick. Although nothing original, Alligator is nonetheless a solid entertaining film that delivers a thrilling viewing experience. The film is very tongue in cheek, and I think that's what makes this film so good, add to that an ample body count, and you have a horror film worth watching.

When it comes to these creature features, they're pretty much a dime a dozen. I found Alligator to be quite special for a couple of reasons. First of all, it was made by competent filmmakers who put their own spin on things without losing sight of the main narrative. Second, Robert Forster, Perry Lang and Henry Silva are in it. The lovely Robin Riker is also in it, and one must experience Michael Vincente Gazzo's performance which is amazingly bad! Third, not only does it reference The Third Man in a very nice way, it's also been referenced and lifted from for everything from movies to video games. There are supposed to be some extended and deleted scenes from a TV version of the movie out there that I would like to have seen included on the side of the disc I watched, but the movie itself is quite entertaining. It's constantly giving us new information without becoming boring, and I like that a lot. It's also nice to see a leading guy who's not all that great. Not that Robert Forster isn't great, but the way he portrays his character makes him seem like a douche bag. It's great that he isn't the usual heroic type, yet still manages to come through in the end.
See Details