Almost Famous
(2000)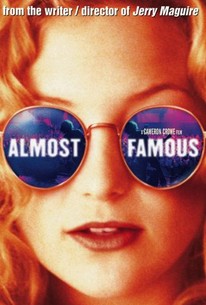 TOMATOMETER
AUDIENCE SCORE
Critic Consensus: Almost Famous, with its great ensemble performances and story, is a well-crafted, warm-hearted movie that successfully draws you into its era.
Movie Info
Writer and director Cameron Crowe's experiences as a teenage rock journalist -- he was a regular contributor to Rolling Stone while still in high school -- inspired this coming-of-age story about a 15-year-old boy hitting the road with an up-and-coming rock band in the early 1970s. Elaine Miller (Frances McDormand) is a bright, loving, but strict single parent whose distrust of rock music and fears about drug use have helped to drive a wedge between herself and her two children, Anita (Zooey Deschanel) and William (Patrick Fugit). Anita rebels by dropping out of school and becoming a stewardess, but William makes something of his love of rock & roll by writing album reviews for a local underground newspaper. William's work attracts the attention of Lester Bangs (Philip Seymour Hoffman), editor of renegade rock magazine Creem, who takes William under his wing and gives him his first professional writing assignment -- covering a Black Sabbath concert. While William is unable to score an interview with the headliners, the opening act, Stillwater, are more than happy to chat with a reporter, even if he's still too young to drive, and William's piece on the group in Creem gains him a new admirer in Ben Fong-Torres (Terry Chen), an editor at Rolling Stone. Torres offers William an assignment for a 3,000-word cover story on Stillwater, and over the objections of his mother (whose parting words are "Don't use drugs!"), and after some stern advice from Bangs (who says under no circumstances should he become friends with a band he's covering), Williams joins Stillwater on tour, where he becomes friendly with guitarist Russell Hammond (Billy Crudup) and singer Jeff Bebe (Jason Lee). William also becomes enamored of Penny Lane (Kate Hudson), a groupie traveling with the band who is no older than William, but is deeply involved with Russell. Lester Bangs and Ben Fong-Torres, incidentally, were real-life rock writers Crowe worked with closely during his days as a journalist. Almost Famous' original score was composed by Nancy Wilson of Heart (who is also Crowe's wife). ~ Mark Deming, Rovi
People Who Like this movie also like
News & Interviews for Almost Famous
Critic Reviews for Almost Famous
Audience Reviews for Almost Famous
½
It is almost impossible not to fall in love with this wonderful autobiographical delight that has a wonderful soundtrack - oh man, isn't the soundtrack just wonderful! - and a wonderful ensemble cast that makes everything so funny, sweet, moving and tremendously charming.
Carlos Magalhães
Super Reviewer
One of the best films about music ever made, with standout performances from everyone in the cast, including a rocking soundtrack that brings this simple, breezy road-trip of a kid following a band on the rise up to "greatness" status. It's just a wonderful movie, and does a good job of being engaging right from the first second and it never really lets up. Kate Hudson's hypnotizing performance is the real standout as a seductive and carefree fan who, like the lead character, experiences the good and ugly things the rock and roll lifestyle brings to an individual. We need more movies like this made about music, ones that don't for a minute feel artificial, and ones that deliver memorable scenes and provide interesting characters that won't leave you quickly.
Dan Schultz
Super Reviewer
I don't think I "get" this movie. I like rock and roll as much as the next Band Aid, but very little is actually spent on the music. Russell Hammond's last interview answer about what he loves about music is somewhat of an easy trick, "To begin with...everything." This is Cameron Crowe's problem in "Elizabethtown" too, only with shoes and failure. He doesn't and can't seem to articulate what it is he loves or knows about music. Now, I know writing about music is like dancing about architecture, but because that articulation of music seems so central to William's journalistic aspirations, the movie needs to be more than just a coming-of-age road trip with surface treatment of the sexdrugsrockandroll trifecta. Kate Hudson's woodsy, backlit scene of her laughingly asking, "What kind of beer [was I sold for]?" with those smooth, limpid tears rolling down is indeed a notable performance. However, what really is the difference between Groupies and Band Aids in the end? How do they afford such an extravagant, nomadic lifestyle? What about Penny Lane does William really fall in love with that's so different from the innocent yet sophisticated beauty every other band member sees? The best part of the movie is probably Lester Bangs's brash but sympathetic caveats about fame and coolness.
Alice Shen
Super Reviewer
Almost Famous Quotes
| | |
| --- | --- |
| Anita Miller: | Listen to Tommy with a candle burning and you will see your entire future. |
| | |
| --- | --- |
| Penny Lane: | It's all happening... |
| | |
| --- | --- |
| Russell Hammond: | What am I doing? I' am telling secrets to the ONE guy you don't tell secrets too. |
| William Miller: | No. We'll do the interview some other time. |
| Russell Hammond: | Okay. Cool. So I guess tonight it's just. . . you know, friends? |
| Russell Hammond: | Okay. Cool. So I guess tonight it's just... you know, friends? |
| | |
| --- | --- |
| Penny Lane: | It`s all happening |
| Penny Lane: | It`s all happening. |
Discussion Forum
Discuss Almost Famous on our Movie forum!