An Honest Liar
(2015)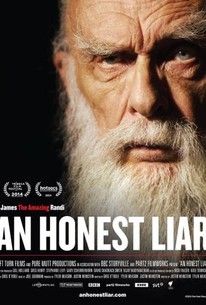 TOMATOMETER
AUDIENCE SCORE
Critic Consensus: A thoughtful and surprisingly layered documentary enlivened by its subject, An Honest Liar serves as a well-deserved tribute to a fascinating life.
Movie Info
AN HONEST LIAR is a feature documentary about the world-famous magician, escape artist, and world-renowned enemy of deception, James 'The Amazing' Randi. The film brings to life Randi's intricate investigations that publicly exposed psychics, faith healers, and con-artists with quasi-religious fervor. A master deceiver who came out of the closet at the age of 81, Randi created fictional characters, fake psychics, and even turned his partner of 25 years, the artist Jose Alvarez, into a sham guru named Carlos. But when a shocking revelation in Randi's personal life is discovered, it isn't clear whether Randi is still the deceiver - or the deceived.(c) Official Site
News & Interviews for An Honest Liar
Critic Reviews for An Honest Liar
Audience Reviews for An Honest Liar
I couldn't stop watching this picture about the unknown Canadian The Amazing Randi and the lengths to which he disproves the "magic" abilities of Uri Gellar and others. Randi's story is also complex in many ways and it is fascinating to see it unfold.
John Ballantine
Super Reviewer
½
There was lots of buzz over this doc among my Skeptic friends. All the screenings sold out at the Cleveland International Film Festival, so I was very excited to see it pop up on Netflix. The archival footage, photos, and interviews are all combined to form an entertaining, informative, and surprising picture. Many people have heard of James Randi carrying on Houdini-type magic acts and debunking psychics and faith healers. He is very clear that as a magician he is going to deceive you, but he finds that a trickster deceiving an audience and claiming real mystic powers is reprehensible. Hence, Randi is an honest liar. I, for one, did not know that The Amazing Randi is gay and in a long-term relationship with a younger man. As in most documentaries, and as couples tend to do, Randi and Jose awkwardly bicker in front of the cameras, but they also demonstrate a deep love for each other. I don't want to give away spoilers, so I won't say much about the twist lie that is uncovered between these two. It is the height of irony and the source of the deepest emotions that this film helps expose. Being a film with cuts between space and time, which inherently is similar to a magic trick, a bit of illusion, is implicitly interesting for illustrating this subject.
Byron Brubaker
Super Reviewer
An extraordinary tale about deception and the lies we unwittingly chose to believe. I gotta admit -- I never saw the twist at the end coming! The once-famous magician "The Amazing Randi", noted for debunking the likes of Uri Geller and Peter Poppoff , shows the depths to which people will descend to believe. Truly extraordinary, profound and exceptional as a documentary or human belief.
Christian C
Super Reviewer
An Honest Liar Quotes
There are no approved quotes yet for this movie.