The Baby Formula
(2008)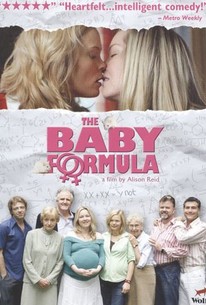 AUDIENCE SCORE
Critic Consensus: No consensus yet.
Movie Info
Science helps two women realize a dream leaving those around them dumbfounded in this independent comedy-drama. Athena (Angela Vint) and Lilith (Megan Fahlenbock) are a Lesbian couple who, after several years together, have decided they want a child. Rather than adopt, Athena and Lilith would prefer to have a baby of their own, and they ask Athena's brother Larry (Dmitry Chepovetsky) if he'd be willing to donate sperm for them. However, they learn through their friend Jim (Matt Baram) of an experimental procedure that would create sperm using Lilith's stem cells; they volunteer to give it a try, and Athena is soon pregnant. Lilith, however, realizes that she wants to experience childbirth too; she persuades Athena to allow her cells to be turned into sperm and before long Lilith is also expecting. However happy the couple may be, the prospect of dual motherhood is quite confusing for their respective families; arrogant Larry feels cheated out of fatherhood, Athena's mom (Rosemary Dunsmore) is outraged, her father (Roger Dunn) is almost too puzzled to react, and her grandmother (Jessica Booker) is full of compassion despite being confused by the specifics. Meanwhile, Lilith's father and his lover (Hal Eisen and Michael Hanrahan) are thrilled at the prospect of being grandparents, but the gravity of the situation forces them to re-examine their own lives. The Baby Formula was the first feature film from writer and director Alison Reid.
Critic Reviews for The Baby Formula
All Critics (4) | Top Critics (2) | Fresh (0) | Rotten (4)
The low-key leads get the movie off to a slow start and sap any momentum generated by the arrival of their dysfunctional in-laws.

Director Alison Reid's film is too content to play the kooky in-laws for easy sitcom chuckles. Nor does Reid really make much out of the film's mockumentary format, dropping the premise in the film's final reel.
The Baby Formula is proof that lesbian romantic comedies are every bit as dopey as the straight variety.
June 19, 2009 | Rating: 2/5
Audience Reviews for The Baby Formula
I like the idea however it just wasn't done properly. I'm not even sure what was wrong with it other than the fact it tried to be hilarious but really didn't hit the mark. The acting was average at best and it seemed like not much thought was actually put into the script and dialogue. Maybe there was a lot of improvisation, but that certainly didn't work.
Sophie Burgess
Super Reviewer
The Baby Formula Quotes
There are no approved quotes yet for this movie.