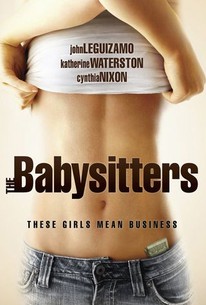 The Babysitters
2007, Drama, 1h 30m
27 Reviews
2,500+ Ratings
What to know
Critics Consensus
Though built on an audacious and controversial premise, Babysitters teeters between exploitation and grossness due to uneven execution. Read critic reviews
Where to watch
Free
Subscription
Rent/buy
Rate And Review
Movie Info
Seventeen-year-old Shirley (Katherine Waterston) is a good student who works as a babysitter in order to make money for college. One night Michael (John Alberto Leguizamo), a father Shirley works for, confesses he's unhappy with married life. Shirley has a crush on Michael, and seizes this moment to kiss him. Michael is so happy he presents Shirley with a big tip, which gives her an idea. Shirley plans to make extra money by setting up her teenage friends with other unhappy fathers.
Audience Reviews for The Babysitters
Honest yet undeniably misfired, The Babysitters plays too much on the idea of pimps and hoes instead of aiming at the idea of misguided youth searching for meaning in their lives. The plot grows repetitious with constant shifts in the girls and their attitudes towards one another along with their feelings towards their new found jobs. The motivation of the characters is weak, leaving me skeptical throughout the entire film. The backstabbing seems misguided and uneventful and the ending is downright horrible. John Lequizamo has his moments as do many of the girls, but this film completely misses its mark.

Cute girls but Very disappointing. 3 stars

Such a weird, dirty movie. There isn't really an ending to it; the movie just kind of....ends. Like the director said "okay guys, that's good enough. Let's just stop here." So many unanswered questions and plot holes. The characters are all pretty unlikable. Shirley's character evolved from a sweet innocent adolescent into a slutty greedy bitch towards the end. The whole movie didn't really have a point. A bunch of girls babysit kids then afterwards screw the fathers and get paid extra for it. There's no dilemma here. The movie focuses mainly on the affairs, and not on anything else. So we never know how the father's family react to the affair (if they even ever found out), we never know if Shirley made enough money for college or whatever, and we don't know if any of the father's ever got caught or not. It's just teenagers sexing up middle aged men. It's kind of disturbing and gross. It's a stupid movie really. Nothing happens. You walk away going "Whaaaaaat theeee fuuuuckkkk did I just watch?" Yeah, dumb movie for sure. I only watched it FTR because I was sick and I had a Netflix marathon. I watched every single movie on my queue. It was awesome....except for this movie. This movie was not awesome.

Quite an average film in the end, more of a drama. One for the trailer made it look a lot better category that's for sure.
See Details