The Ballad of Narayama
(1984)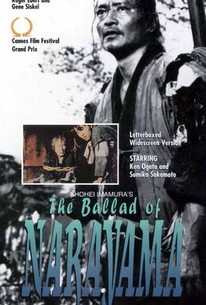 The Ballad of Narayama Photos
Movie Info
This film is based on Shichiro Fukazawa's novel and is set in the 19th century in a severely impoverished mountain village in northern Japan. In this fictional society, once the elderly have reached the age of 70 they are brought up Mount Nara, where ancient gods reside, and left to die.
Critic Reviews for The Ballad of Narayama
Audience Reviews for The Ballad of Narayama
Shohei Imamura present a great tale, the struggle of a mother to accomplish all the necessity of your family, before her death. With the perfect direction, and screenplay, The Ballad of Narayma, show too the sexual perform of her sons and the violent way of life that the community live together. Narayma, bring too a strange dark humor, shocking scenes and the difficulty of a son to comply an cold tradition. Certainly, deserve win the Palme d'or in 1983. Fresh.
Lucas Martins
Super Reviewer
½
[font=Century Gothic]"The Ballad of Narayama" is an earthy and heavily symbolic movie with a hint of the supernatural about a peasant village, barely subsisting on whatever crops and animals they raise. One single misfortune for a family can affect the entire village. So tight are things, there is an unwritten law that when a citizen reaches the age of 70 and supposedly cannot contribute anymore, they are carried on the back of their son to the mountain and left behind as a tribute to the mountain god.(How does this differ from how the elderly are treated today?) [/font] [font=Century Gothic][/font] [font=Century Gothic]The focus in "The Ballad of Narayama" is on one representative family that demonstrates as equal as everything is for the people in the village, there is something of a pecking order. Tatsuhei's(Ken Ogata) wife just died(Though some do make it to a ripe old age, many others die young.) and Tama(Aki Takejo) has just arrived from a neighboring village to be his new wife just in time for the local festival. His brother Risuke(Tonpei Hidari) is a second son, a yakko forbidden from marrying. Even in this group, he is at the low end due to his offensive odor. Their mother Orin(Sumiko Sakamato) is 69 years old and in good health with all her teeth intact until she knocks out two on purpose. She is looking forward to her trip to the mountain to be reunited with her late husband and ending her life of hardship.[/font]
This movie was a treat!! It has everything: humor, drama, great characters and a beautiful story. It's situated in a peasant village, where everybody has to struggle to keep the mouths of their families fed. The people are submitted to strict rules to make sure that everything doesn't spin out of control. One of the rules is that when a person turns 70, they have to be carried off to the mountain of Narayama by the eldest son where they are left to die. The story revolves around Orin, the 69 year old mother and her family, a colorful collection of characters that find their way into your heart effortlessly.
The Ballad of Narayama Quotes
There are no approved quotes yet for this movie.