Benny's Video
(1992)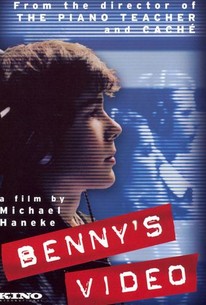 Movie Info
For 14-year-old Benny, anything recorded on videotape is inherently better and more real than what he can see with his naked eyes. He is barely noticed by his professional parents and spends most of his time either viewing wild and violent films or looking at the view outside his window through his video camera. One day, on a whim, he invites a girl to his house and coolly murders her while his video camera is rolling. Then he hides the body temporarily in his closet and goes off to a party. The calm and unexcited way his parents discuss the situation when he explains it to him, using his video film to demonstrate, makes it clear that his own psychopathology has a long background in that of his parents.
Critic Reviews for Benny's Video
Audience Reviews for Benny's Video
½
"Benny's Video" starts with Evi(Stephanie Brehme) holding a party at her parents'(Ulrich Muhe & Angela Winkler) apartment without permission. Their son Benny(Arno Frisch) hardly notices as he is in his room watching videos as usual. One day at the video store, he encounters a girl(Ingrid Stassner) his age who is just waiting outside. They go back to his place where he seeks to impress her with a piggy snuff video he made at a farm and shows her the weapon used to kill the pig. He even dares her to shoot him. She refuses. Then, he shoots her. So, Michael Haneke, you have our attention. Now what do you plan on doing with it? As it happens, not a heck of a lot with a movie that feels influenced by Atom Egoyan's earlier video inflected films and also works as a line to Haneke's future with "Cache." At least with "Benny's Video," he is not blaming violent movies so much, as he takes a slightly less simplistic route by blaming the parents with Benny being a classic latchkey kid with minimal supervision while enabling him with all the electronic equipment they buy him. Don't believe me? Then, check out the pyramid scheme that Evi is running.
Benny's video is haunting and difficult to watch in a number of places. This is allegedly the third of Michael Haneke's trilogy and I haven't seen the first two but this works as a stand alone piece investigating violence and what seemingly rational parents will do to protect a disturbed son.
John Ballantine
Super Reviewer
'Benny's Video' is a genuinely unsettling film whose premise concerns a scene that is particularly disturbing and visceral. The film concentrates on Benny, a seemingly sociopathic teenager, and his regimented, staid parents known simply as 'Mother' and 'Father'. Benny lives a materially charmed life, having an array of electronics bought for him by his affluent middle class parents. This technology allows him to indulge in his interest, or rather obsession, with videos, both watching and recording them. The film's message is a relevant one, it suggests that the media has a detrimental, and in this case fatal, desensitising effect. However, it suggests this in a rather hyperbolic fashion. The film loses its credibility through how explicitly and rather insularly it conveys its message. In my opinion, it's clear that Benny is a warped individual with an innate lack of remorse, no film or news report can rid someone of their senses to the point of sociopathy. Benny is a contemptible person, and he's purposely constructed that way, but he isn't someone who's the product of desensitisation, his cold, empathy devoid persona is that of genealogically tarnished mind. Narratively speaking, the film's first hour or so engrosses you with its unpleasantness and realism. The film places the viewer in a 'What If?' situation that's somewhat reminiscent of films such as 'Deliverance', however it isn't even half as resonant owing to the abhorrence of the film's events, the callousness of Benny and the steely reserve of his parents. During the last 40 minutes of the film, there is something of a pacing problem, I felt the film lost the edge and tension it had created; this isn't a particularly pressing issue, but the film certainly felt longer than 105 minutes. I found 'Benny's Video' to be a fundamentally flawed film; it would've worked if it had a more balanced, rational message at its core. Many lobbyists, in the haze of their ignorance and typically political agendas, would vehemently agree with this film. I am of the opinion that there is a substantial difference between watching something and doing something. Violent media can, at the very, very most, be a mere substitutional factor amongst many factors that could somewhat exacerbate the pace of an unhinged, unwell mind.
Jack Hawkins
Super Reviewer
Benny's Video Quotes
There are no approved quotes yet for this movie.