Beyond The Black Rainbow
(2012)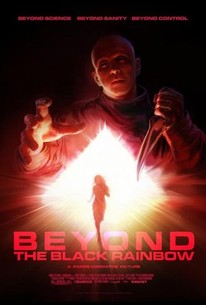 Beyond The Black Rainbow Photos
Movie Info
Set in the strange and oppressive emotional landscape of the year 1983, Beyond the Black Rainbow is a Reagan-era fever dream inspired by hazy childhood memories of midnight movies and Saturday morning cartoons. From the producer of "Machotaildrop," Rainbow is the outlandish feature film debut of writer and director Panos Cosmatos. Featuring a hypnotic analog synthesizer score by Jeremy Schmidt of "Sinoia Caves" and "Black Mountain," Rainbow is a film experience for the senses. -- (C) Magnet
News & Interviews for Beyond The Black Rainbow
Critic Reviews for Beyond The Black Rainbow
Audience Reviews for Beyond The Black Rainbow
½
When "Beyond the Black Rainbow" was released last year, I was intrigued because the critics were saying that it was weird. But they could not articulate exactly what kind of weird, so I passed at the time. Now, after seeing the movie for myself, I understand why since even with an abdundance of disturbing imagery, it does not mean anything without any kind of context, putting it in the general neighborhood of amateur hour Cronenberg. The story such as it is concerns a clinic run by Mercurio Arboria(Scott Hylands) where Barry Nyle(Michael Rogers), a mad scientist, is performing unhealthy looking experiments on Elena(Eva Allan), a patient. Overall, the movie looks like what somebody in 1966 would think 1983 will look like.(The only cultural difference the movie points out is people being able to smoke indoors back then.) And I think I might have gone with that if not for one nightmarish image. That sole image might tie in with the movie's possible theme of the vast potential of the 60's giving way to the abyss of the 80's. Or maybe it's all about evolution. Who knows?
A mute telepathic woman is kept prisoner in a mysterious pyramid-power institute in the Reagan era in this slow paced, visually trippy pseudo-surreal sci-fi effort. The style over substance aesthetic wears a little thin by the end, but every year should feature a film explicitly designed to accompany an acid trip, and this was 2012s best option.
There are three movies that I have watched in my lifetime that I can honestly say, I have no clue what it was about, and you really need drugs to understand. "Muholland Drive", "Tree of Life", and now "Beyond the Black Rainbow" make up a trilogy of movies that will scramble your brain, leave you scratching your head, and when it's over say "Why did I watch this?" This is some psychedelic horror/drama about a crazy Dr. with a patient who has mind powers, I think. I don't know really, you just need to watch for yourself. I saw the trailer for this last month on a show called "Nothing but trailers" and thought it was the weirdest/craziest trailer I ever saw, and had to watch it. Well, I watched, and I'm still left with zero answers. The only reason I give this 2 stars is because there are 2 things about this movie I really did like, and fans of horror movies will like(won't understand, but will like). The score is probably the scariest music you will ever hear in a movie, and it's all synthesizer type music that will literally give you chills. The second, the Dr. is the creepiest character I have seen in a long time. People tend to fear what they don't understand, and in that regard, he is one scary mofo. You may not get anything in this movie, but you will be creeped out by him, I promise! If you want a movie that will creep you out, then check this out, just don't expect to know what is going on, or understand any of it. If you do get it, please hit me up and let me know, because I didn't get it at all, and I usually get these types of movies.
Everett Johnson
Super Reviewer
Beyond The Black Rainbow Quotes
| | |
| --- | --- |
| Mercurio Arboria: | Bring home the mother lode, Barry. |
| | |
| --- | --- |
| Barry Nyle: | You are doing so good. |
| | |
| --- | --- |
| Barry Nyle: | This is always the highlight of my day. |