Beyond the Edge
(2014)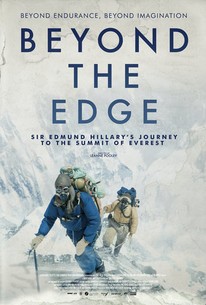 Movie Info
In 1953, the ascent of Everest remained the last of earth's great challenges. Standing at over 29,000ft, the world's highest mountain posed a fearsome challenge and had already claimed thirteen lives in previous expeditions. Faced with treacherous winds, sub-zero temperatures and battling altitude sickness, Edmund Hillary, a modest bee-keeper and keen mountaineer from Auckland, New Zealand, and the very experienced Sherpa, Tenzing Norgay, of Nepal,finally achieved the impossible and became the first men to stand atop Everest. It was an event that stunned the world and defined an era. Hillary and Tenzing carried the hopes and dreams of the United Kingdom, New Zealand, the people of the Himalayas and the entire British Empire on their shoulders. As the world slowly recovered from the horrors of World War II their efforts allowed people everywhere to believe a new age was dawning. For the first time, and with the support of the Hillary family, Sir Edmund's story is brought to life on the big screen, 'relived' using both original footage, photographs and newsreels as well as dramatized reconstructions of the ascent in 3D.(C) IFC Films
Critic Reviews for Beyond the Edge
Audience Reviews for Beyond the Edge
An inspirational and often awe inspiring look at the British expedition in 1953 to conquer Mount Everest. Showing the true courage and bravery of those who tried and the sheer relentlessness of Everest itself. A great story of the power of the human spirit and of endurance.
Ian Walker
Super Reviewer
Beyond the Edge Quotes
There are no approved quotes yet for this movie.