Chris Rock: Bigger & Blacker
(1999)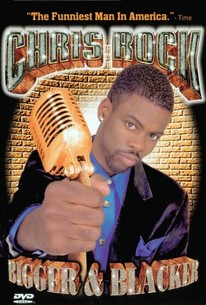 AUDIENCE SCORE
Critic Consensus: No consensus yet.
Chris Rock: Bigger & Blacker Videos
Chris Rock: Bigger & Blacker Photos
Movie Info
Chris Rock brings his critically acclaimed brand of social commentary-themed humor to this 1999 standup comedy presentation from HBO. Also released as an album, Chris Rock: Bigger & Blacker features Rock on-stage extolling his razor-sharp wit and wisdom on such topics as gun control, President Clinton, homophobia, racism, black leaders, and relationships.
Rating:
NR
Genre:
,
Directed By:
In Theaters:
On DVD:
Runtime:
Studio:
HBO
Audience Reviews for Chris Rock: Bigger & Blacker
½
Definitely one of the funniest standup specials I have seen. Rock did this special a few months after the Columbine High School shootout and he did well to not offend anyone but make light of the killers' cries for help and the fact that it's white majority schools that have issues with guns. I also loved Rock's rant on President Clinton and the Lewinsky scandal and his take on homophobia. Rock has a weird point. Chances are, whatever you do not like will end up in your family. For example, if you don't like black people, your daughter will likely hook up with black men. If you don't like gays, you will have a gay son. Life sucks like that. A great special with very few pauses and blank spots. Definitely worth seeing many years later.
Christopher Staaf
½
another consistent set to round out a great decade for Chris Rock. funny, topical, what the hell do you want
Lester Yabut
by Dane Youssef "ONE OF THE BEST THERE WAS, IS AND WILL EVER BE." Rock is the best stand-up comedian in the world right now. Second-coming of Richard Pryor here, folks. See this for physical evidence. This is one of the funniest and perhaps greatest stand-up bits ever made. And I have seen more than my fair share. I had seen Rock mostly from bit comedic parts. Films like "Beverly Hills Cop II" and "Beverly Hills Ninja." Not to mention "Boomerang." But I was unaware to this man genius with a mike for the longest time (too long, in my opinion). Rock is mostly known as "The angry, loud little black guy bitching how the white man is trying to personally keep him down." But he's so much more. He speaks with such insight and eloquence about humanity and the races and the sexes, I think of him as a superman or some prodigy. His theories here: Women who want to raise kids without a man's help, respect and appreciation for Daddy, fat black women, people's obsession with the OJ trial and how white people bitch about their current financial status. But given the choice... they wouldn't trade places with a black man. Not even him. "And I'm rich!" he exclaims. Not even the poor white trash. Or the one-legged busboy busing the concert. "That's how GOOD it is to be white!" Maybe he's right. "When you're white, the sky's the limit! When you're black, the limit's the sky!" He goes into other stuff. Where guys hide their porn. What women are truly thinking. Perhaps he's the only man who truly knows. He also has some great childhood stuff about being the only black kid at his school at how Robitussin was an all-purpose medicine at his house. Like people use to think leeches were. This is a gem on film. The man created gold when he's given a microphone and a stage. I bought the tape a year later and a lot of Rock's others. I'm serious. It's so incredible, funny and true to life and painfully on target that at times we flinch when he aims directly at us. It's almost scary. May Chris Rock be forever immortalized in the same status as Lenny Bruce, Richard Pryor, Redd Foxx, Eddie Murphy and Bill Hicks. Every generation (just once) every generation... a creature as divine as this is born into this pitiful mortal world... and changes it forever. Now the black Def Jam comics who have made their own showcase vehicles, "The Original Kings of Comedy" and "The Queens of Comedy." They are very talented and amazing. Like I even need to say so. I'm preaching to the choir, aren't I? But even they're not in Chris Rock's league. Rock is up there (as far as I'm concerned) with those who redefined comedy and now the modern comics incorporate it into their act, without even knowing where the hell it first came from. Who was the innovator. Who started it all. Here is a man who deserves the success Seinfeld has had. Maybe if he had a revolutionary sit-com with his own brand of comedy. Who knows? The sky's the limit for Rock. I hope he makes another stand-up concert film. I liked his stand-up concert bits in "Head of State." Let's hope he does more. This concert film is more than a gem, but a treasure. Look for any of his others. One of the best stand-up concert films ever made, if not actually THE best. Worthy of being put-up on par with "Richard Pryor Live On The Sunset Strip" and "Eddie Murphy Raw," this one richly deserves a 10 out of 10. Enough said. Well, that's all I'm gonna say on this, anyway. You want more on the greatness? Let the Rock speak for itself. --For The Best In The World, Dane Youssef danessf@yahoo.com http://profile.myspace.com/index.cfm?fuseaction=user.viewprofile&friendid=58175682 http://www.google.com/profiles/youssef.daneyoussefcom.dane http://www.amazon.com/gp/cdp/member-reviews/ASKUZHOKQ1W3E/ref=cm_pdp_rev_title_1?ie=UTF8&sort_by=MostRecentReview#R2MFYILVVRXX73 http://www.imdb.com/user/ur2718160/comments-expanded?start=0&order=alpha http://wiki.answers.com/Q/User:DANE_YOUSSEF http://www.epinions.com/user-surfur http://en.wikipedia.org/wiki/User:DANE_YOUSSEF http://en.wikipedia.org/wiki/User:SURFUR http://uncyclopedia.wikia.com/wiki/User:DANEYOUSSEF http://www.movieweb.com/u/dane_youssef/reviews http://www.youtube.com/SURFUR http://www.youtube.com/user/DaneYoussef?feature=mhum http://hairmetal.ning.com/profile/DaneYoussef?xg_source=activity http://www.flickr.com/people/46939743@N07/ http://twitter.com/Dane_Youssef http://www.neoseeker.com/members/daneyoussef/
Dane Youssef
Chris Rock: Bigger & Blacker Quotes
There are no approved quotes yet for this movie.