Blackfish
(2013)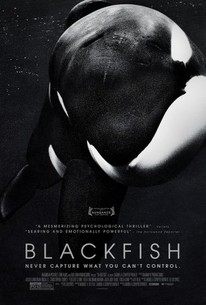 Movie Info
Magnolia Pictures invites you and a guest to attend an advance screening of BLACKFISH, an eye-opening documentary directed by Gabriela Cowperthwaite. Many of us have experienced the excitement and awe of watching 8,000-pound orcas, or "killer whales," soar out of the water and fly through the air at sea parks, as if in perfect harmony with their trainers. Yet, in our contemporary lore this mighty black-and-white mammal is like a two-faced Janus-beloved as a majestic, friendly giant yet infamous for its capacity to kill viciously. BLACKFISH unravels the complexities of this dichotomy, employing the story of notorious performing whale Tilikum, who-unlike any orca in the wild-has taken the lives of several people while in captivity. So what exactly went wrong? Shocking, never-before-seen footage and riveting interviews with trainers and experts manifest the orca's extraordinary nature, the species' cruel treatment in captivity over the last four decades, and the growing disillusionment of workers who were misled and endangered by the highly profitable sea-park industry. This emotionally wrenching, tautly structured story challenges us to consider our relationship to nature and reveals how little we humans have learned from these highly intelligent and enormously sentient fellow mammals. (c) Magnolia
Critic Reviews for Blackfish
Audience Reviews for Blackfish
½
A revolting and well-edited documentary that exposes the infuriating reality behind aquatic shows performed by poor orcas that are kept in captivity and in extremely cruel conditions - and let's only hope it will make people reconsider going to parks like SeaWorld ever again.
Carlos Magalhães
Super Reviewer
½
Blackfish is an eye-opening exploit drenched in heartbreak and controversy as it explores the extent of captivity. A documentary hell-bent on impact and change that is both memorable and provoking. 4.5/5
Eugene Bernabe
Super Reviewer
A heart-wrenching, truly saddening documentary which concerns the corrupt practices of SeaWorld, notably how they put the well-being of their trainers on the line in the name of money and profits. This film is geared to get the viewer angry, and it does that by giving many examples of how SeaWorld knew what they were doing was wrong, but still lied about it to cover their own tracks. The death of Dawn Brancheau and how they have the gaul to blame her for her demise instead of the killer whale that viciously murdered her. It is a heavy film, at times threatening to pummel the viewer down into submission, but ultimately is an effective one that will not leave you quickly.
Dan Schultz
Super Reviewer
Blackfish Quotes
There are no approved quotes yet for this movie.