Blackthorn
(2011)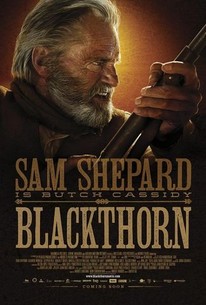 TOMATOMETER
AUDIENCE SCORE
Critic Consensus: Blackthorn invites comparisons to a classic Western -- and survives, thanks largely to a charismatic performance by a well-chosen Sam Shepard.
Movie Info
It's been said (but unsubstantiated) that Butch Cassidy and the Sundance Kid were killed in a standoff with the Bolivian military in 1908. In Blackthorn, Cassidy (Shepard) survived, and is quietly living out his years under the name James Blackthorn in a secluded Bolivian village. Tired of his long exile from the US and hoping to see his family again before he dies, Cassidy sets out on the long journey home. But when an unexpected encounter with an ambitious young criminal (Eduardo Noriega) derails his plans, he is thrust into one last adventure, the likes of which he hasn't experienced since his glory days with the Sundance Kid. -- (C) Official Site
People Who Like this movie also like
News & Interviews for Blackthorn
Critic Reviews for Blackthorn
Audience Reviews for Blackthorn
With the world having thought him dead for twenty years, Butch Cassidy(Sam Shepard), aka James Blackthorn, can afford to relax on his ranch in Bolivia and spend some quality time with Yana(Magaly Solier). Still, he is restless and has gotten tired of waiting for Che Guevara to show up, so he sells his horses in order to return to his home country. But an altercation with Eduardo(Eduardo Noriega), a Spanish national, separates him from his horse and his money. To make it up to him and save his own life, Eduardo mentions the mine he just robbed. All of which gets Butch thinking of the old days when he used to ride with the Sundance Kid(Padraic Delaney) and Etta Place(Dominique McElligott, of "Hell on Wheels"). The best part of "Blackthorn" is the beautiful Bolivian scenery, especially the salt flats sequence. At the same time, that along with an extended cameo overshadow the lived-in and low-key performance from Sam Shepard which also fits in well with Butch Cassidy being more of a passive anti-hero this time around. But if you are going to the trouble to take a legendary outlaw like Cassidy out of cultural retirement, shouldn't one at least think of a better story that can stand on its own? For example, nothing against Bolivia of which we get some valuable history here, I think it would have worked out significantly better if this had been about Butch Cassidy already living in the United States as something of a living ghost.
News flash - Butch Cassidy and The Sundance Kid faked their deaths at the hands of the Bolivian militia. Wow - ok, so what if ??? This is the jumping off point for Blackthorn (Cassidy's assumed name); in a film that takes place 27 years after the Bolivian "incident". Sounds promising, yes? Throw in the perfect casting of Sam Shepard as the ageing Cassidy, add some jaw dropping Bolivian scenery and you've got... a film that failed - not only at the box office, but artistically as well; in spite of the fine scenery and casting of its lead. I lay part of the blame at director Mateo Gil who all too often was at odds with himself, just as the old west fable was being replaced by cars, trains, and manifest destiny. Here he wanted to create an old style western; with horses galloping endlessly... but then he collides with Miguel Barros' script which is grounded in harsh realism (in other words, major plot points center on the fact that horses do NOT run forever). Gil wallows in the harshness as well, with several bleak horizons, dying or dead steeds, exposure to the elements and vast vistas with nothing to see except the characters involved - paying homage to Sergio Leone and his Eastwood Spaghetti Westerns. The story is a simple one: after hiding for 27 years, Butch discovers that his "nephew" (or possibly his son, which is never made totally clear - is the lad Butch's or Sundance's) is now orphaned in San Francisco. Having made enough money breeding horses, he decides to cash out and return to the states (and nevermind that said "orphan" nephew is now closer to 30 than 20). Of course things don't go well - he is shot at and his horse, with all his cash and guns, runs away. This leads to the introduction of a new sidekick, a Spanish engineer named Eduardo who convinces Butch to help him out of a jam with the promise of riches. Butch doesn't want to seem mercenary, just wants to get back the 6 grand he lost due to Eduardo shooting at him, but decides to help Eduardo escape the Indians who are pursuing him (who work for the mining company that Eduardo stole 50k from). There is a decent bonding story with some twists and turns, but the final twist is somewhat over the top; just as I found the reintroduction of Pinkerton agent Mackinley (nicely portrayed as a beaten down drunkard by Stephen Rea), while holding some nice possibilities to be sorely mishandled. That the film tries to infuse a No Country For Old Men sentiment in the interplay between Butch and MacKinley, it totally misses the mark, leaving MacKinley's justifications for his actions totally suspect. The film also backtracks quite a bit - flipping back 27 years to those last days on the run for Butch and Sundance and the girl who loves them both. I found these passages disconcerting and lacking any dramatic flair; and once again being at odds with itself. The glossing over of the original story would indicate that director Gil assumes you know all about Butch Cassidy and The Sundance Kid (otherwise, why see this film at all?) - and yet by including parts of the back story (and more what-if scenarios) - he has to perforce show actors who not only do not look like Redford and Newman, but can't hold a candle to their acting chops. So Gil painted himself into a corner, creating for himself and his film a no win scenario. Too bad, for parts of the screenplay and parts of the cinematography do mesh and work quite well - which of course makes the parts that don't all the more glaring.
paul sandberg
Super Reviewer
This was rather well done......Legend has it that Butch and Sundance were killed in a shootout in Bolivia. There is a theory, however, that this legend is false. There actually seems to be evidence proving that it is more likely that Butch faked his death. This movie is based on that theory, and gives us a fictional story of what could have happened in his later years. Sam Shepard is a very fine actor, and is supported by an equally fine cast. I found this movie very interesting, and enjoyable.
Cynthia S.
Super Reviewer
Blackthorn Quotes
| | |
| --- | --- |
| Butch Cassidy: | Friendship is the most valuable thing a man can have.Is worth more than money, land, horses or cattle.....Might be the only thing that he never forget...It last's forever...!!! |
| Butch Cassidy: | Friendship is the most valuable thing a man can have.Is worth more than money, land, horses or cattle... Might be the only thing that he never forget... It last's forever! |
| | |
| --- | --- |
| Butch Cassidy: | Rich? I've been my own man. You don't get any richer than that. |