Blindsight
(2006)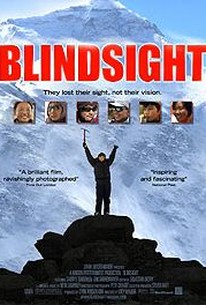 TOMATOMETER
AUDIENCE SCORE
Critic Consensus: A powerful glimpse of the possibilities for transcendence in straightforward documentary filmmaking -- and extreme physical disability.
Movie Info
Set against the breathtaking backdrop of the Himalayas, "Blindsight" follows the gripping adventure of six Tibetan teenagers who set out to climb the 23,000-foot Lhakpa Ri on the north side of Mount Everest. The dangerous journey soon becomes a seemingly impossible challenge--made all the more remarkable by the fact that the teenagers are blind. Believed by many Tibetans to be possessed by demons, the children are shunned by their parents, scorned by their villages and rejected by society. Rescued by Sabriye Tenberken, a blind educator and adventurer who established the first and only school for the blind in Tibet, the students invite the famous blind mountain climber Erik Weihenmayer to visit their school after learning about his conquest of Everest. Erik arrives in Lhasa and inspires Sabriye and her students Kyila, Sonam Bhumtso, Tashi, Gyenshen, Dachung and Tenzin to let him lead them higher than they have ever been before. The resulting three-week journey is beyond anything any of them could have predicted.
Critic Reviews for Blindsight
Audience Reviews for Blindsight
The film is just sad through and through. The poor kids get manipulated into climbing a mountain when they clearly are not physically able to do so and their so called guardians are so taken with the notion of taking blind kids up a mountain that they forget to look after their well being. Very very very sad.
John Ballantine
Super Reviewer
½
Inspired by the exploits of blind mountain climber, Eric Weihenmayer, six students from the Tibetan School for the Blind undertake an expedition to the Lhakpa-Ri summit of Mt. Everest. One of the most engaging documentaries of recent years, this film is beautiful and awe-inspiring. Filmed against the backdrop of the world's tallest mountain, you will find the prerequisite thrills of a mountain climbing saga, but this wise little film is really about something more awe-inspiring... the human spirit. Since reading "Into Thin Air," I've watched a lot of films about Everest and read the books too, but here's something different. An expedition organized to get six blind Tibetan teenagers to the Lhakpa-Ri peak of the mountain, becomes the backstory to some even greater challenges for these brave youngsters. One by one, their life stories are revealed to be as inspirational as anything they encounter on the windswept glaciers of the world's tallest mountain. In a country where blindness is considered a curse, we find these young men and women to be closer to greatness in their courage and humility, than any fainter glory that reaching a mountain summit could bring them. Interesting interplay among the adult sponsors of the trip, rugged mountain guides who see things in the western spirit of individual achievement, and the teachers from the school, one of them blind herself, who simply want their young friends to experience the joy and comradeship of which they have had so little in their lives. Time and again, while watching, I was overwhelmed by emotion, but this is not a film of cheap sentimentality. It's about the darkness that surrounds anyone who feels cut off and outcast, and the light that suddenly penetrates to the heart of those who experience something resembling family and acceptance for the first time in their lives.
Wayne Schenewerk
½
Inspirational documentary about the trials and tribulations of six blind Tibetan kids as they set out to climb Lhakpa Ri in the Himalayas. Emotional and uplifting.
Randy Tippy
Super Reviewer
Blindsight Quotes
There are no approved quotes yet for this movie.
Discussion Forum
Discuss Blindsight on our Movie forum!