A Boy Named Charlie Brown
(1969)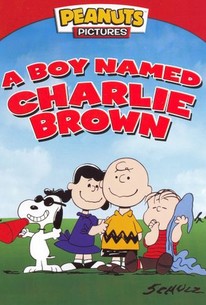 Movie Info
Charlie Brown and his fellow Peanuts make their feature film debut in this animated comedy that is based on Charles Schultz long-lived cartoon strip. The story centers on a national spelling bee. Lucky Charlie Brown is so excited that he is selected to participate in it, but will he be able to overcome his chronic bad-karma and actually win?
News & Interviews for A Boy Named Charlie Brown
Critic Reviews for A Boy Named Charlie Brown
Audience Reviews for A Boy Named Charlie Brown
The Peanuts get their first ever feature film and it is a pure blast. Most for kids, this film follows Charlie Brown as he is picked on until he wins a spelling bee in order to prove to his friends that he is not stupid. It is a very harsh reality, but this film pulls it off well. With a great story for kids, great lessons for the young and old, and animation that will make you chuckle and keep a smile on your face, "A Boy Named Charlie Brown" is great! Although not too much happens, I can still call this a great recommendation to any Peanuts fans. By far my favourite aspect of this film is when Snoopy lies on his roof and instead of having an imaginary Dog Fights, he fears them from the past (the holiday specials). It is just a short scene but it was very memorable. There are a lot of callbacks to the shorts in this film and they were all done tastefully. "A Boy Named Charlie Brown" is a very well done first feature.
A genius piece of animation that makes me cry and feel for a the little guys in the world.
Jim Careter
Super Reviewer
A nice kids movie, it's very funny and cute. If you like the Charlie Brown movies you should see it. I really liked this movie.
A Boy Named Charlie Brown Quotes
| | |
| --- | --- |
| Linus Van Pelt: | I understand how you feel. You worked really hard, with the spelling bee and all, and you made a fool out of yourself and everything. But have you notice something, Charlie Brown? |
| Charlie Brown: | What's that? |
| Linus Van Pelt: | The World didn't come to an end. |
| | |
| --- | --- |
| Lucy Van Pelt: | *pulls away football while Charlie Brown tries to kick it* |
| Lucy Van Pelt: | [pulls away football while Charlie Brown tries to kick it] |
| Charlie Brown: | *lands on back* |
| Charlie Brown: | [lands on back] |
| Lucy Van Pelt: | And now for the surprise! Would you like to see how that looked on instant reply? Hum de dum dee dee... |
| Charlie Brown: | Instant replay?! |