Brewster McCloud
(1971)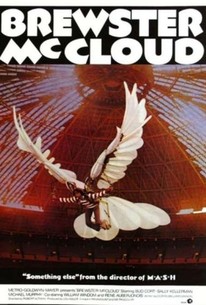 Movie Info
A boy yearns to fly in Robert Altman's whimsical youthquake parable. With the aid of seraphic Louise (Sally Kellerman), owlish Brewster (Bud Cort) constructs a pair of human-size wings in his Houston Astrodome nest to realize his dream. Meanwhile, conservative creeps, including a witchy "Star-Spangled Banner"-belting crone (Margaret Hamilton) and Brewster's skinflint boss (Stacy Keach), keep turning up dead covered with bird droppings; the Houston Establishment calls in blue-eyed, turtleneck-wearing "San Francisco super cop" Frank Shaft (Michael Murphy) to investigate. Brewster cooks his own goose, however, when he defies Louise's edict against sex and hooks up with Astrodome usher Suzanne (Shelley Duvall) after she impresses him (and saves him) by out-driving Shaft in her Road Runner. Despite her apparent sweetness, Suzanne ultimately will not compromise her comfortable home for flight with Brewster.
News & Interviews for Brewster McCloud
Critic Reviews for Brewster McCloud
Audience Reviews for Brewster McCloud
Altman's most experimental work.
Graham Jones
Super Reviewer
1970's Altman drama about a boy building a pair of wings in a fallout shelter. A grown-up fairy tale with a surreal murder story and a wild cast including the lead from HAROLD AND MAUDE and a very odd bird lecturer. Mermerizing and utterly fantastic in every sense of the word..
Footnote : The film was released after MASH, which might account for its poor box-office as its a very different animal, promoted by a zany action trailer that was definitely made by a blind man with a very large pair of scissors.
i don't get how the studio ever released this. no way could that happen today. and how much of this was improv? was there a script beyond the basic idea of a strange boy who wants to fly in the houston astrodome? anyway it's a chaotic mess that i'm not sure even makes sense but somehow works, a sort of altman trademark. the device of the lecturer helps tie it all together. many hilarious bits and sally kellerman and shelley duvall are adorable here. god bless the 70's and copious amounts of weed.
Stella Dallas
Super Reviewer
Brewster McCloud Quotes
There are no approved quotes yet for this movie.