Bridge of Spies
(2015)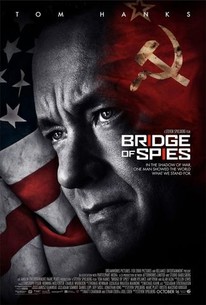 TOMATOMETER
AUDIENCE SCORE
Critic Consensus: Bridge of Spies finds new life in Hollywood's classic Cold War espionage thriller formula, thanks to reliably outstanding work from Steven Spielberg and Tom Hanks.
Movie Info
Tom Hanks stars as the American attorney tasked with negotiating the release of a U-2 spy plane pilot who was shot down over Russia at the height of the Cold War in this historical drama from DreamWorks Studios. Steven Spielberg and Mark E. Platt produce a film written by Matt Charman. ~ Jason Buchanan, Rovi
News & Interviews for Bridge of Spies
Critic Reviews for Bridge of Spies
Audience Reviews for Bridge of Spies
An American lawyer goes to Cold War era Berlin to negotiate a hostage exchange. Tom Hanks and Mark Rylance, who surprisingly won Best Supporting Actor, lead this cast in a decently tense Cold War thriller. While it's true that the relationship between Donovan and Abel is underdeveloped, there's enough in this film to make their connection believable. And the plot moves slowly but surely. Spielberg, however, has no restraint in his message. The film is about American exceptionalism and the primacy of American Values (never mind the fact that several other countries share similar values). Yes, there are token "Bad Americans," but seen especially in a pair of scenes in which Germans attempting to climb a wall are killed and Americans attempting to climb a wall are safe (and not shot by police), the film pounds us over the head with just how wonderful we are. Without getting into a disagreement about the validity of Spielberg's point, we can simply say that the film lacks subtlety. Overall, there's a decent film here even if it's heavy-handed in parts.
Jim Hunter
Super Reviewer
½
Steven Spielberg. Tom Hanks. Period piece. Sound familiar? I mean, it definitely is, but this film from the dynamic duo proves to be more than meets the eye. Based around the true story of Brooklyn insurance lawyer James B. Donovan taking on the case of reputed spy Rudolf Abel, the story is set among Cold War tensions at their height, shortly after the Rosenberg trial. Tasked with helping Abel gain constitutional rights against a country at arms with the Soviets, it is a film filled to the brim with intelligent discourse and a penchant for reflective empathy. Read more at bluefairyblog.com
Spencer S.
Super Reviewer
An intriguing behind-the-scenes negotiation during a heightened period of danger, Bridge of Spies relies upon its history to do the heavy lifting and it's plenty enough for a handsomely made, reverent, and engaging legal procedural that's also hard to muster great passion over. Tom Hanks is again a noble everyman, this time an insurance lawyer, James Donovan, called in to defend a mild-mannered Russian spy (Mark Rylance) captured during the Cold War. Things get even more complicated when spy pilot Francis Powers is shot down over Soviet airspace. The movie's civil liberties arguments are pretty clear and still applicable to our modern era, but the movie becomes exponentially more interesting once Powers is captured and Donovan travels to Eastern Berlin to negotiate a prisoner swap while trying to work three sides, the Americans, the Russians, and the Eastern Germans who were hungry for legitimacy. It's during these back-and-forth negotiations and posturing that the movie really hits its stride, pulling incredible facts together while forcing our protagonist to be the world's greatest poker player. It's the details of this story that makes it feel more fulfilling from spy techniques to the new life on the other side of the Berlin Wall. The acting is robust and Rylance (TV's Wolf Hall) makes a strong impression in a role that requires him to be cagey to a fault. Hanks is his usual determined, inspirational self, which plays all the right emotions in a way that still feels expected and a little boring. Bridge of Spies is a slighter Steven Spielberg affair, a good story well told with good actors but a movie missing essential elements to plant itself in your memory. It's a fine movie but sometimes fine is just not enough, and considering the talent involved in front of and behind the camera, I expect better. Nate's Grade: B
Nate Zoebl
Super Reviewer
Bridge of Spies Quotes
| | |
| --- | --- |
| Ivan Schischkin: | This is not an equitable trade, sir. |
| James Donovan: | But what you're saying is, if Powers has given up everything he knows then Moscow would trade? Why wouldn't they? As for Abel, if he dies in an American prison, the next Russian operative who gets caught might think twice about keeping his mouth shut. And you never know, Abel might want to see the sky again and decide to trade Russian secrets for small American favours. |
| Ivan Schischkin: | How can we know this? We little men. We just do our jobs. |
| James Donovan: | Like Lieutenant Powers. He's just a pilot. |
| Ivan Schischkin: | He was making photographs from 70,000 feet when he was shot from the sky. People in my country consider this an act of war. |
| James Donovan: | We have to get off this merry-go-round, sir. The next mistake our countries make could be last one. We need to have the conversation our governments can't. |
| Ivan Schischkin: | I will ask Moscow. Who knows what they will say. There are a lot of people, Mr. Donovan, who doesn't want this exchange to ever take place. |
| | |
| --- | --- |
| James Donovan: | We have to have the conversations our governments can't. |
| | |
| --- | --- |
| James Donovan: | Aren't you worried?... |
| James Donovan: | Aren't you worried? |
Discussion Forum
Discuss Bridge of Spies on our Movie forum!