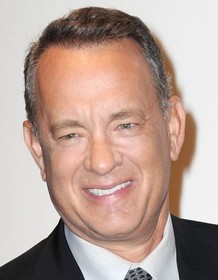 Tom Hanks
Highest Rated: 100% Toy Story 2 (1999)
Lowest Rated: 10% My Life in Ruins (2009)
Birthday: Jul 9, 1956
Birthplace: Concord, California, USA
With an on-screen persona so likeable that he was often referred to as "America's Dad," Tom Hanks cemented a reputation as one of the most respected actors of his generation. Born in Concord, California in 1956, Hanks participated in school plays, discovering that acting was a good outlet for his energy and wit. He went on to study theater at California State University, Sacramento and as a three-year intern at Great Lakes Theater Festival in Cleveland, Ohio. He finally moved to New York in 1979 and made his film debut in the low budget horror movie "He Knows You're Alone" (1979). The following year, Hanks landed his first big break, co-starring in the sitcom "Bosom Buddies" (ABC, 1980-82) with Peter Scolari. He starred in the hit fantasy-comedy "Splash" (1984) with Daryl Hannah two years later, which he quickly followed with the zany comedy "Bachelor Party" (1984). Hanks' feature film career was off and running, and he continued his hot streak with the comedies "The Man with One Red Shoe" (1985) and "The Money Pit" (1985). Though he experienced some turbulence in his personal life when he and wife Samantha Lewes were divorced in 1987, his next professional triumph remained just around the corner, as he was soon starring as a 13 year old boy trapped in a 32 year old man's body in Penny Marshall's smash hit "Big" (1988). Hanks remarried actor Rita Wilson that same year, and embarked on a string of cult hits like "The 'Burbs'" (1989) and "Joe Versus the Volcano" (1990). By 1992, he was well established as star and ready for the next phase in his career, and he impressed both audiences and critics with an unexpected performance as a washed up baseball player turned coach in the acclaimed World War II era sports film "A League of Their Own" (1992). Hanks quickly followed this with a turn as a widowed father looking for love opposite Meg Ryan in the massively popular "Sleepless in Seattle" (1993). He followed this with two back-to-back award-winning performances, one as a gay man suffering from both AIDS and discrimination in "Philadelphia" (1993), and another as an intellectually limited man who plays a pivotal role in history in Ron Howard's "Forrest Gump" (1994). Hanks would reteam with Howard the following year to portray astronaut Jim Lovell in "Apollo 13" (1995), the same year he began voice acting the role of cowboy doll Woody in the cutting-edge CG family film "Toy Story" (1995). Ready to expand his horizons further, Hanks next opted to direct his first feature, the period movie "That Thing You Do!" (1996), in which he also played a supporting role. Hanks rounded out the '90s with a turn in the acclaimed war film "Saving Private Ryan" (1998) before reteaming with Meg Ryan for another romance, "You've Got Mail" (1998). Hanks reprised the role of Woody for "Toy Story 2" (1999) before wowing audiences with his performance as a man battling for survival against both loneliness and the elements in "Cast Away" (2000). The 2000s would bring still more nuanced and relatable roles for Hanks in films like "Catch Me If You Can" (2002) and "The Terminal" (2004). He took on the lead role of Robert Langdon in the hotly anticipated film adaptation of the bestseller "The Da Vinci Code" (2006) as well as the sequel "Angels & Demons" (2009), and was greeted with as much affection as ever with his third performance as Woody in "Toy Story 3" (2010). Hanks directed and starred in his second feature, "Larry Crowne" (2011) in 2011. As a whole, the 2010s would find Hanks utilizing the gravity and trust that came with his own screen persona, playing famous figures like Walt Disney in "Saving Mr Banks" (2013), pirate survivor Captain Richard Phillips in "Captain Phillips" (2013), and pilot Chesley 'Sully' Sullenberger in "Sully" (2016). After reprising Robert Langdon for "Inferno" (2016) and Woody for "Toy Story 4" (2019), Hanks took on the role of children's television pioneer Fred Rogers in "A Beautiful Day in the Neighborhood" (2019).
Photos
Tom Hanks
SULLY, l-r: Tom Hanks (as Chesley Sullenberger), director Clint Eastwood on set, 2016. ph: Keith Bernstein/©Warner Bros. Pictures
NOTHING IN COMMON, Tom Hanks, 1986, (c)TriStar Pictures
EVERY TIME WE SAY GOODBYE, Tom Hanks, Cristina Marsillach, 1986, (c)TriStar Pictures
THE DA VINCI CODE, Audrey Tautou, Tom Hanks, 2006, (c) Columbia
THE DA VINCI CODE, Audrey Tautou, Tom Hanks, 2006, (c) Columbia
THE GREEN MILE, Jeffrey DeMunn, Tom Hanks, Michael Clarke Duncan, 1999, (c) Warner Brothers
THE CELLULOID CLOSET, Tom Hanks, 1995
THE DA VINCI CODE, Tom Hanks, Audrey Tautou, 2006, (c)Columbia
THE DA VINCI CODE, Audrey Tautou, Tom Hanks, 2006, (c) Columbia
THAT THING YOU DO!, Tom Hanks, Tom Everett Scott, Steve Zahn, Johnathon Schaech, Ethan Embry, 1996, TM and Copyright (c)20th Century Fox Film Corp. All rights reserved.
APOLLO 13, Bill Paxton, Kevin Bacon, Tom Hanks, 1995, (c) Universal
YOU'VE GOT MAIL, Tom Hanks, Steve Zahn, 1998, (c)Warner Bros.
THE DA VINCI CODE, Audrey Tautou, Tom Hanks, 2006, (c) Columbia
THE DA VINCI CODE, Audrey Tautou, Tom Hanks, 2006, (c) Columbia
THE BONFIRE OF THE VANITIES, from left: Tom Hanks, Bruce Willis, 1990. ©Warner Brothers
JOE VERSUS THE VOLCANO, from left: Meg Ryan, Tom Hanks, 1990. ©Warner Brothers
THE BONFIRE OF THE VANITIES, from left: Tom Hanks, Melanie Griffith, 1990. ©Warner Brothers
The 66th Annual Tony Awards, Tom Hanks, 06/10/2012, ©CBS
THE CELLULOID CLOSET, Tom Hanks, 1995
Filmography
Movies
Credit

29%

71%

My Big Fat Greek Wedding 3
Producer
$28.1M
2023

75%

62%

Asteroid City
Stanley Zak (Character)
$28.1M
2023

No Score Yet

80%

A Grammy Salute to The Beach Boys
Self
-
2023

70%

97%

A Man Called Otto
Otto Anderson (Character),
Producer
$64.1M
2022

28%

27%

Pinocchio
Geppetto (Character)
-
2022

77%

94%

Elvis
Colonel Tom Parker (Character)
$151.0M
2022

No Score Yet

No Score Yet

'Tis the Season: The Holidays on Screen
Self,
Executive Producer
-
2022

74%

67%

Finch
Finch (Character)
-
2021

No Score Yet

No Score Yet

Clint Eastwood: A Cinematic Legacy
Self
-
2021

88%

89%

News of the World
Captain Kidd (Character)
$12.7M
2020

No Score Yet

40%

My Gift: A Christmas Special from Carrie Underwood
Executive Producer
-
2020

77%

76%

Greyhound
Captain Krause (Character),
Screenwriter
-
2020

95%

92%

A Beautiful Day in the Neighborhood
Fred Rogers (Character)
$61.7M
2019

97%

94%

Toy Story 4
Woody (Voice)
$434.0M
2019

79%

66%

Mamma Mia! Here We Go Again
Executive Producer
$120.6M
2018

No Score Yet

67%

The Mayo Clinic: Faith - Hope - Science
Unknown (Character)
-
2018

88%

73%

The Post
Ben Bradlee (Character)
$81.4M
2017

92%

90%

Spielberg
Self
-
2017

16%

21%

The Circle
Eamon Bailey (Character)
$20.5M
2017

100%

84%

California Typewriter
Self
$218.6K
2016

23%

36%

Inferno
Robert Langdon (Character)
$34.3M
2016

100%

74%

Two Who Dared: The Sharp's War
Waitstill Sharp (Voice)
-
2016

85%

84%

Sully
Chesley "Sully" Sullenberger (Character)
$125.0M
2016

70%

54%

A Hologram for the King
Alan Clay (Character)
$4.2M
2016

27%

52%

My Big Fat Greek Wedding 2
Producer
$59.6M
2016

100%

77%

Everything Is Copy
Unknown (Character)
-
2015

22%

32%

Ithaca
Matthew Macauley (Character),
Executive Producer
-
2015

91%

87%

Bridge of Spies
James Donovan (Character)
$72.3M
2015

91%

82%

Toy Story That Time Forgot
Unknown (Character)
-
2014

No Score Yet

No Score Yet

Glad All Over: The Dave Clark Five and Beyond
Unknown (Character)
-
2014

94%

84%

Toy Story of Terror!
Unknown (Character)
-
2013

79%

84%

Saving Mr. Banks
Walt Disney (Character)
$83.3M
2013

51%

47%

Parkland
Producer
$652.4K
2013

93%

89%

Captain Phillips
Capt. Richard Phillips (Character)
$107.1M
2013

No Score Yet

61%

Killing Lincoln
Narrator
-
2013

71%

60%

Radioman
Unknown (Character)
-
2012

67%

76%

Game Change
Executive Producer
-
2012

66%

66%

Cloud Atlas
Zachry (Character)
$27.1M
2012

No Score Yet

77%

Partysaurus Rex
Woody (Voice)
-
2012

No Score Yet

No Score Yet

Electric City
Unknown (Character)
-
2012

No Score Yet

84%

Hawaiian Vacation
Woody (Voice)
-
2011

No Score Yet

78%

Small Fry
Woody (Voice)
-
2011

45%

61%

Extremely Loud & Incredibly Close
Thomas Schell (Character)
$31.8M
2011

37%

41%

Larry Crowne
Larry Crowne (Character),
Director,
Screenwriter,
Producer
$35.6M
2011

No Score Yet

No Score Yet

He Has Seen War
Executive Producer
-
2011

98%

90%

Toy Story 3
Woody (Voice)
$415.0M
2010

73%

57%

Where the Wild Things Are
Producer
$77.2M
2009

10%

44%

My Life in Ruins
Executive Producer
$8.7M
2009

36%

57%

Angels & Demons
Robert Langdon (Character)
$133.4M
2009

71%

49%

The Great Buck Howard
Mr. Gable (Character),
Producer
$748.4K
2008

54%

46%

City of Ember
Producer
$7.9M
2008

55%

66%

Mamma Mia!
Executive Producer
$143.7M
2008

82%

73%

Charlie Wilson's War
Charlie Wilson (Character),
Producer
$66.6M
2007

87%

77%

The Simpsons Movie
Self (Voice)
$183.1M
2007

24%

52%

Evan Almighty
Executive Producer
$100.3M
2007

90%

78%

Neil Young: Heart of Gold
Producer
$1.8M
2006

90%

66%

Starter for 10
Producer
$210.1K
2006

62%

42%

The Ant Bully
Producer
$28.1M
2006

25%

57%

The Da Vinci Code
Robert Langdon (Character)
$217.5M
2006

No Score Yet

No Score Yet

The Merv Griffin Show - 40 of the Most Interesting People of Our Time
Self
-
2006

88%

76%

Magnificent Desolation: Walking on the Moon
Producer
$34.1M
2005

56%

64%

The Polar Express
Hero Boy/Father/Conductor/Hobo/Scrooge/Santa Claus (Voice),
Executive Producer,
Producer
$125.9M
2004

61%

74%

The Terminal
Viktor Navorski (Character)
$77.0M
2004

54%

43%

The Ladykillers
Goldthwait Higginson Dorr III, Ph.D. (Character)
$39.7M
2004

No Score Yet

84%

Late Night With Conan O'Brien - 10th Anniversary Special
Unknown (Character)
-
2004

No Score Yet

75%

Concert for George
Mountie (Character)
$131.0K
2003

76%

73%

My Big Fat Greek Wedding
Producer
$241.4M
2002

96%

89%

Catch Me if You Can
FBI Agent Carl Hanratty (Character)
$164.4M
2002

81%

86%

Road to Perdition
Michael Sullivan (Character)
$104.1M
2002

89%

84%

Cast Away
Chuck Noland (Character),
Producer
$233.6M
2000

No Score Yet

No Score Yet

Shooting War
Unknown (Character)
-
2000

79%

94%

The Green Mile
Paul Edgecomb (Character)
$136.8M
1999

100%

87%

Toy Story 2
Woody (Voice)
$245.9M
1999

70%

73%

You've Got Mail
Joe Fox (Character)
$115.7M
1998

100%

79%

Return With Honor
Narrator
$114.3K
1998

94%

95%

Saving Private Ryan
Captain John H. Miller (Character)
-
1998

94%

78%

That Thing You Do!
Mr. White (Character),
Director,
Writer
$25.9M
1996

97%

89%

The Celluloid Closet
Unknown (Character)
$1.4M
1996

100%

92%

Toy Story
Woody (Voice)
$31.3M
1995

96%

87%

Apollo 13
Jim Lovell (Character)
$173.8M
1995

71%

95%

Forrest Gump
Forrest Gump (Character)
$330.3M
1994

81%

89%

Philadelphia
Andrew Beckett (Character)
$76.0M
1993

75%

75%

Sleepless in Seattle
Sam Baldwin (Character)
$125.6M
1993

35%

72%

Radio Flyer
Older Mike (Character)
$4.0M
1992

81%

84%

A League of Their Own
Jimmy Dugan (Character)
$105.1M
1992

15%

26%

The Bonfire of the Vanities
Sherman McCoy (Character)
-
1990

67%

54%

Joe Versus the Volcano
Joe (Character)
$39.1M
1990

50%

51%

Turner & Hooch
Det. Scott Turner (Character)
$70.5M
1989

55%

71%

The 'Burbs
Ray Peterson (Character)
$34.1M
1989

60%

43%

Punchline
Steven Gold (Character)
$20.3M
1988

98%

82%

Big
Josh (Character)
$113.5M
1988

50%

41%

Dragnet
Det. Pep Streebek (Character)
$56.0M
1987

50%

58%

The Money Pit
Walter Fielding, Jr. (Character)
$30.9M
1986

54%

40%

Nothing in Common
David Basner (Character)
$32.0M
1986

No Score Yet

42%

Every Time We Say Goodbye
David Bradley (Character)
-
1986

58%

33%

Volunteers
Lawrence Whatley Bourne III (Character)
$19.4M
1985

47%

40%

The Man With One Red Shoe
Richard Harlan Drew (Character)
-
1985

54%

56%

Bachelor Party
Rick Gassko (Character)
-
1984

91%

61%

Splash
Allen Bauer (Character)
-
1984

No Score Yet

19%

Mazes and Monsters
Robbie Wheeling (Character)
-
1982

30%

31%

He Knows You're Alone
Elliot (Character)
-
1980
TV
Credit

No Score Yet

No Score Yet

Masters of the Air
Executive Producer

2024

No Score Yet

No Score Yet

The Graham Norton Show
Guest

2011

2015-2023

No Score Yet

62%

Late Night With Seth Meyers
Guest

2022-2023

No Score Yet

50%

The Late Show With Stephen Colbert
Guest

2015-2017

2020-2023

No Score Yet

38%

Jimmy Kimmel Live!
Guest

2011-2014

2016

2019

2021

No Score Yet

62%

The Kelly Clarkson Show
Guest

2019-2020

No Score Yet

No Score Yet

Close Up With The Hollywood Reporter
Guest

2018

2020

No Score Yet

No Score Yet

Variety Studio: Actors on Actors
Guest

2017

2020

No Score Yet

No Score Yet

The Ellen DeGeneres Show
Guest

2013

2016

2018-2019

No Score Yet

20%

The Late Late Show With James Corden
Guest

2015

2019

No Score Yet

No Score Yet

Ellen's Game of Games
Guest

2019

No Score Yet

No Score Yet

Conan
Guest

2010-2011

2013

2019

No Score Yet

67%

The 2000s
Executive Producer

2018

No Score Yet

81%

Last Week Tonight With John Oliver
Himself (Guest Star),
Guest

2014

2017

No Score Yet

58%

Saturday Night Live
David S. Pumpkins (Voice),
Unknown (Guest Star),
Host

1985

1988

1990

1992

1996

2006

2009

2011-2013

2016-2017

No Score Yet

100%

The Nineties
Executive Producer

2017

No Score Yet

No Score Yet

Dateline NBC
Guest

2017

No Score Yet

No Score Yet

The Eighties
Unknown (Character),
Executive Producer,
Self

2016

38%

76%

Maya & Marty
Guest

2016

No Score Yet

47%

The Tonight Show Starring Jimmy Fallon
Guest

2015

No Score Yet

No Score Yet

Celebrated
Self

2015

100%

90%

Late Show With David Letterman
Guest

2013

2015

94%

96%

Olive Kitteridge
Executive Producer

2014

No Score Yet

No Score Yet

The Colbert Report
Guest

2010

2013

No Score Yet

No Score Yet

Late Night With Jimmy Fallon
Guest

2012

No Score Yet

No Score Yet

The Daily Show With Jon Stewart
Guest

2004

2009

2011

78%

92%

30 Rock
Tom Hanks (Guest Star)

2011

80%

80%

Big Love
Executive Producer

2006-2007

2009-2011

91%

88%

The Pacific
Executive Producer

2010

82%

87%

John Adams
Executive Producer

2008

71%

No Score Yet

Life With Bonnie
Unknown (Guest Star)

2002

97%

96%

Band of Brothers
Executive Producer,
Director,
Writer

2001

No Score Yet

No Score Yet

Inside the Actors Studio
Guest

1999

No Score Yet

83%

From the Earth to the Moon
Jean-Luc Despont (Character),
Executive Producer,
Director,
Host,
Writer

1998

64%

No Score Yet

The Naked Truth
Unknown (Guest Star)

1995

No Score Yet

No Score Yet

Fallen Angels
Director

1993

82%

98%

Tales From the Crypt
Director

1992

No Score Yet

88%

Family Ties
Unknown (Guest Star)

1983-1984

No Score Yet

No Score Yet

Happy Days
Dr. Dwayne Twitchell (Guest Star)

1982

80%

60%

Bosom Buddies
Kip Wilson/Buffy (Character)

1980-1982

No Score Yet

71%

Taxi
Gordon (Guest Star)

1982