Bullet
(2014)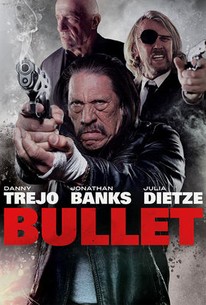 Movie Info
A tough talking, hard hitting cop rescues the governor's daughter when she's kidnapped by a drug kingpin, turning the streets of L.A. into a bullet-ridden bloodbath. ~ Cammila Collar, Rovi
Critic Reviews for Bullet
Audience Reviews for Bullet
½
"This country is built on the barrel of a gun, not the fucking constitution. There shouldn't be stars on the flag, there should be guns. We are the poor with guns and you stand in our way and we will fuck you up!"-Carlito Kane (Jonathan Banks) Danny has some good one liners. "We're in America, speak Mexican, bitch!"-Frank "Bullet" Marasco (Danny Trejo)
FilmGrinder Stone
One line summary: Two good performances did not overcome a bad script. -------------------- Carlito Kane kidnaps the Governor's daughter and her significant other in order to free Carlito's son Manual Kane. They kill the young man to show how serious they are. Shortly thereafter, Carlito kidnaps Frank's grandson Mario, then attempts to force Frank to recant his testimony against Manual. Vanessa (Frank's daughter, Mario's mother) uses the money Frank gave her (which he won from prize fighting) to buy drugs. After she attempts suicide, Frank takes her to emergency. In the meantime, the Governor takes Carlito's trumped up evidence to force the Attorney General to have Frank arrested. Frank does get arrested, but he and the cops sort things out. Frank goes rogue for a while, handing in his badge, even though he does not have to do so. Does Frank get Mario back? Does the governor's daughter get rescued? -----Scores---- Cinematography: 7/10 OK, not great. Sound: 6/10 A bit out of control on levels at times. The actors seemed to be miked OK. Acting: 6/10 Danny Trejo and Jonathan Banks are their usual menacing, intimidating selves. John Savage gave a sub-par performance, which I did not expect. The other actors were forgettable, except for the terrible Torsten Vorges. Screenplay: 4/10 Throughout the film, I was confused as to whether Frank ever was a righteous cop. Early on, he kills a couple of cops, for instance. I was surprised to see that he had a badge a bit later. After the large number of felonies that he committed, I did not see how he was not arrested. When Frank and the kids leave the site of his killing spree, I wondered how many years of therapy those two would need later on. They leave happy, though. Sigh.
Ed Collins
An action thriller starring Danny Trejo as the title character and Jonathan Banks as the villain (best known for Beverly Hills Cop and Breaking Bad) could go both ways... good and bad! But, when we have a director with a name Nick Lyon, who was a co-writer with Matthew Joynes, Ron Peer and Byron Lester, it would be almost impossible that this film goes to good category! Why? Where to start? [img]http://upload.wikimedia.org/wikipedia/en/thumb/6/68/BULLET_film_poster_2013.jpg/220px-BULLET_film_poster_2013.jpg[/img] The story follows an undercover police officer-turned-vigilante (Trejo) tracking down the crooks who kidnapped his grandson. He is supposed to be some kind of hardened detective battling to bring down a gang, but in most scenes he looked like an escapee from a retirement village having problems with bad knees. This character is involved in almost impossible events added in sequences of clichés we all have seen before many, many times. Nothing in this movie can be called quality - everything is disposable on a first sign! Acting was terrible, except the villains! They were great. Scenography, photography, camera work ... could all be faulted! Don't even bother with this.
Bullet Quotes
There are no approved quotes yet for this movie.
Discussion Forum
Discuss Bullet on our Movie forum!