Cesar Chavez
(2014)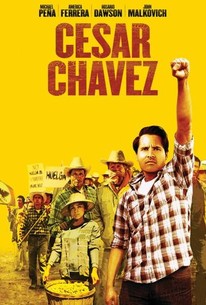 TOMATOMETER
AUDIENCE SCORE
Critic Consensus: Too in awe of its subject's great works to present him as a human being, Cesar Chávez settles for trite hagiography.
Movie Info
Directed by Diego Luna, Chávez chronicles the birth of a modern American movement led by famed civil rights leaderand labor organizer, Cesar Chavez. Torn between his duties as a husband and father and his commitment to bringing dignity and justice to others, Chavez embraced non-violence as he battled greed and prejudice in his struggle for the rights of farm workers. His triumphant journey is a remarkable testament to the power of one individual's ability to change the system. (c) Lionsgate/Pantalion
People Who Like this movie also like
News & Interviews for Cesar Chavez
Critic Reviews for Cesar Chavez
Audience Reviews for Cesar Chavez
½
Yeah, don't mistake this guy for Ce[u]a[/u]sar, because that's the iconic figure in primate civil rights. Seriously though, Diego Luna is back to fighting for civil rights, only this time, instead of defending the gays with his boyfriend Harvey Milk, he's fighting for the Mexican farmers. You know, during this time in America, I probably can't even go to a monster truck rally set up between a steak house and a country music festival without walking by three or four separate conversations spoken entirely in Spanish, but in this Mexican co-produced drama about Mexican civil rights, there's not a whole lot of Spanish being spoken. Shoot, John Malkovich shows up, so if they were going to take too many breaks from the English language, then they were probably going to have to go French at some point, which would be fine to me, because it's an immensely more attractive language than Spanish, or at least Mexicanese. Yeah, that was kind of racist, but even Luna, born and raised in Mexico, looks a little too pretty to be a real Mexican, something that you certainly can't call [u]America[/u] Ferrera, Rosario Dawson and Michael Peña, who is a Scientologist, for goodness' sake. Peña may be a little crazy, but I'm glad to see him get to flesh out his chops as a lead, and to see that Wes Bentley is still alive. I just wish that he would be in more than, like, three good movies, because even though this film is plenty decent, it doesn't strike quite like its leads, although it does march along about as steadily. Really, although there is a little bit of fatty filler around the edges, I don't know if the film is so much draggy, as much as it is repetitious, doing little to freshen up a number of dramatic set pieces and other happenings which, before too long, begin to run together, and therefore meander. Excess in storytelling does not end there, for storytelling, for all his heart, gets to be seriously heavy-handed, with Diego Luna, as director, punctuating the slow spells with some almost flashy sentimentality which backs almost blatant dialogue and characterization to Keir Pearson's writing, that is, when it does get around to characterization. Immediate development is seriously lacking, thus, this very human character study breaks out of the gate fumbling, and that's only the beginning, as certain important and underdeveloped supporting roles come to jar into play during the body, ironically at the expense of further fleshing out more integral roles, at least enough to transcend the heavy-handedness that ends up combining with the expository shortcomings to thin a sense of humanity to characterization. Even though the heart of the storytelling and performances define a fair deal of compelling dramatic intrigue, from a hyper-glorified lead of limited layers, to antagonists of too little depth to be especially buyable, character types limit dramatic possibilities, partly because they're probably too familiar. Conventions further bring storytelling to a limp, molding characters who feel too undercooked and manufactured to feel genuine, backed by a very traditional biopic formula that delivers on very little, if any twists, until the blandness of genericism falls over a narrative which is limp enough in its basic structure to begin with. There are times when the film is very compelling, and few, if any times in which it is less than reasonably engaging, but (Five sentences before a "but" or a "yet"; new record!) this drama could have done so much more, and maybe it would have if it was tighter, meatier and less heavy-handed, or at least less formulaic. The final product is a little underwhelming, yet not quite as disappointing as some are saying, falling short, make no mistake, but still compelling adequately, for a number of reasons. Alternating between, if not combining a moderate Latin flavor and a haunting traditional and neo-classical brood, Michael Brooks' score is not as especially unique or remarkable as it could have been, but it is lovely, livening up some of the less urgent sequences, while reinforcing the bite of some of the heavier highlights of this drama. As well-conducted as the score is, its effectiveness in the context of this drama relies on Diego Luna's conduct of the storytelling, which is repetitious, heavy-handed and formulaic in its directorial structure, but consistently heartfelt, enough so to sustain thorough charm through and through, punctuated by more realized dramatic touches which move. There are more than a few memorably resonant moments of taste and control to Luna's showcase of his potential as a filmmaker, even though he defuses quite a bit of momentum through missteps in overambition that, honestly, is understandable. This type of subject matter has been explored in such a similar many by many a better biopic, and yet, it's still compelling, as a portrait on the steady rise of César Chávez's great movement to establish fair share for his fellow Mexican-Americans and farmers, and all of the personal struggles and horrors he and his peers faced along the way. The narrative carries scope and depth, and themes regarding standing up for one's pride as a man, and for what's right, but primarily in concept, where there is potential to ironically do an injustice through overambition, though not so much of an injustice that you don't catch many a glimpse into a stronger drama, with depth being most visible within the very human performances. Material is limited with depth to characterization, but each performance does what it can to endear, whether it be John Malkovich as a powerful industrial farm man with passion to oppress for the sake of what he feels is in his best interesting, or America Ferrera as the supportive, but concerned wife of an endangered activist leader, or leading man Michael Peña, whose soft-spoken charm and piercing dramatic highlights humanize the titular César Chávez more than the storytelling. The strengths have their highlights, but on the whole, they're subtle, and yet, the flaws are, too, thus, the film manages to keep on a solid path tightly enough to create a film so endearing and so compelling, at least in its idea, that it borders on rewarding. When the movement halts, repetition, heavy-handedness and thin characterization along a hopelessly formulaic path leaves the final product to come crashing down short of rewarding, but not fall so deeply into underwhelmingness that solid scoring, heartfelt direction and compelling performances fail to bring Diego Luna's "Cesar Chavez" to the brink of rewarding as an endearing, if improvable account on an period for laboring Mexican-American community. 2.75/5 - Decent
Cameron Johnson
Super Reviewer
½
When Diego Luna's second directorial effort opened quietly this past weekend I was quick to associate it with another recent biopic of an important historical figure that floated under the radar last awards season and never picked up the steam to garner the recognition I felt it deserved. I, more than most, truly enjoyed Mandela: Long Walk to Freedom and the fully invested performance of Idris Elba that turned the film into a powerful statement showing that while working with a bigger life than a single film could capture, one is still able to capture the intended scope and impression the subject leaves behind them. I knew little of Mandela before seeing the film besides his stint in prison and the same could be said about Cesar Chavez whose name I only associated with his hunger strike that I'd read and learned about so long ago I couldn't tell you who taught it to me. Luna's film attempts to do very much the same things as Justin Chadwick's take on the South African President and while the struggles they fight for are both radically different and virtually the same in terms of basic human rights, the films seem to follow the same rules in how they mean to convey all the information necessary to create a compelling narrative within the time span of two hours (give or take a few minutes on either). This similarity from a standpoint of storytelling makes Chavez's plight no less admirable in the context of the film and because Luna is still somewhat of a novice filmmaker in the sense that his material here, while no doubt a passion of his and a subject he is well educated on, can still be overwhelming and this becomes clear as the way in which this story is conveyed feels all to safe and well-constructed to be about a man who took the necessary risks and was an intelligent strategist allowing him to outwit his opponents in the game of pride he often found himself playing. There is of course the obvious fact that because the plight of Chavez is interesting and compelling on a basic level that the movie will inherently share some of these elements and while it is also clear the film comes from a place of good intentions with true heart behind it that unfortunately can't always make up for the simple lack of insight and freshness that feels sorely lacking here. read the whole review at www.reviewsfromabed.net
Philip Price
Super Reviewer
½
After recently sitting through a stretch of shockingly below average movies depicting the Mexican/Mexican-American/Chicano struggle (Filly Brown, For Greater Glory and A Better Life) I will say that I was quite entertained by this good, not great, biopic which salutes this important man and equally important moment in relatively recent California history. Read the rest of my review at: http://www.examiner.com/review/cesar-chavez-a-mexican-american-london Follow me on Twitter @moviesmarkus
Markus Robinson
Super Reviewer
Discussion Forum
Discuss Cesar Chavez on our Movie forum!