Chained Heat
(1983)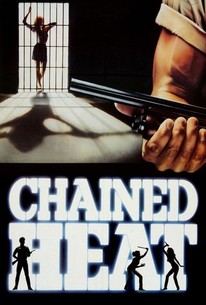 Movie Info
Carol (Linda Blair) is sexually exploited both by the authorities and by the inmates during her 18-month stay in prison, in this "B"-grade softcore film with touches of violence throughout. Two female leaders of the prisoners, Ericka (Sybil Danning) and Duchess (Tamara Dobson), are at each other's throats, a prurient warden (John Vernon) has a hot tub next to his desk, his corrupt assistant Taylor (Stella Stevens) runs a drugs and prostitution ring, and to make matters confusing, Taylor's lover is having an affair with Ericka. No wonder there is a prison breakout; everyone needed fresh air.
Critic Reviews for Chained Heat
Audience Reviews for Chained Heat
½
One of the more popular WIP titles and lives up to the reputation. Babyfaced Exorcist star Linda Blair bares her pendulous papayas in prison, is accosted by lezzie inmate Sybil Danning, John Vernon hams it up as the degenerate, corrupt warden, while the gorgeous Monique Gabrielle trades her sugar for smack. What more could you want in a 1983 exploitation flick?
Doctor Strangeblog
Super Reviewer
Chained Heat Quotes
There are no approved quotes yet for this movie.