Choking Man
(2007)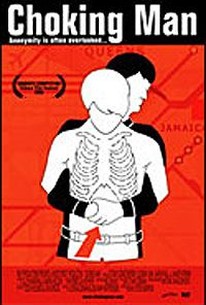 Movie Info
At the Olympic Diner, Jorge, the dishwasher, is choking on the American dream. Jorge is caught between his Ecuadorian roots, his new American life working at the diner for Rick and his own crippling shyness. When the diner adds a bright new member to the staff, Jorge's world gets a little more complicated as his affections grow for the new waitress, a beautiful Chinese girl named Amy.
Critic Reviews for Choking Man
Audience Reviews for Choking Man
By no means is this the worst film that I have ever seen; it is, however, on a long list of terrible films that I have seen. Every character in this film suffers from a, really bad & persistent, form of stupidity. To describe Jorge, the main character & clearly the worst character in the film, as morbidly shy is a morbidly understated description of the character. He obviously suffers from some sort of delusional paranoia, immensely afraid of everything, the shyness being the one aspect of his personality that is the most apparent. For Jorge to be the main character in this film the writer(s) and/or director(s) of this film must have suffered from some form of brain-death. I half expected the movie to introduce a subplot about a case worker that got Jorge the job at the diner, through some sort of a state-funded program that tries to make retards self-sufficient by getting them jobs. At the same time, I was hoping that his `roommate` would do him in; sort of a suicide by proxy... The only thing worth a damn in the entire film is the character Amy. While every character in the film suffers, at the very least, from some form of stupidity, she's the only really likable character. I borrowed it from my local library and I did so bc I had heard a couple of good things about one of the production companies that worked on the film; Ghost Robot has only done one other movie that I have seen and it, Cropsey, was, truly, an excellent film. I was hoping that the intelligence that went into that film would have been instilled into this one as well. The dvd extra's may actually end up being the best thing about this film. Overall, a waste of my time.
Morpheus One
Amazing movie. Makes you feel the crazy claustrophobic life of the main character without it being hard to watch.
Cory G
½
a verygood story and very good filmaking but this is not that origainl..dont get me wrong it is well constructed but the whole diner routine has been overdone in film...because all of the dinners are too similar..this movie is worth your time if you are in to good indies
Shawn Wade
Choking Man Quotes
There are no approved quotes yet for this movie.
Discussion Forum
Discuss Choking Man on our Movie forum!