Collaborator
(2012)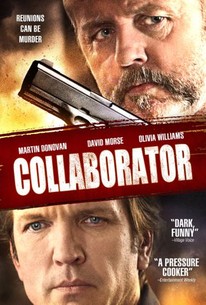 Movie Info
Robert Longfellow (Martin Donovan) is a famous playwright who can't seem to catch a break. His recent Broadway play was met with horrible reviews and an early cancellation, and his marriage is being tested as an old flame (Olivia Williams) has reentered his life during a particular moment of weakness. Retreating back to his childhood home to visit his mother (Katherine Helmond), Robert crosses paths with his childhood neighbor, Gus (David Morse). A right-wing, ex-con who still lives at home with his mother, Gus is Robert's polar opposite in every possible way. When Gus holds Robert hostage at gunpoint during a drunken reunion gone terribly wrong, the drama unfolds as social status, celebrity and the imminent threat of violence converge, building up to a climax that will leave both men forever changed. -- (C) Tribeca
News & Interviews for Collaborator
Critic Reviews for Collaborator
Audience Reviews for Collaborator
½
Slow moving, but really quite enjoyed this. Interesting story about a writer who returns home to visit his mother after a professional set back. He revisits the girl he left behind and gets into more than he bargained for with the neighbour, a 57 year old man who has never left home and has a few issues of his own. Definitely an original story, and the usual good acting you can expect from Martin Donovan.
Nicki Marie
Super Reviewer
I had wondered where Martin Donovan had gone after being a staple in so many Hal Hartley films. It turns out that he was preparing to do this one..an act/direct job that is sharply written and benefits from two wonderful character actors. David Morse is unbelievable.
John Ballantine
Super Reviewer
½
Entertainment One's latest crime thriller (if one can venture to call it that) is one of those movies that must be watched more than once to be fully appreciated. It has been received to largely mixed reviews. Chances are that those who gave the movie bad marks perhaps didn't give it more than a passing glance in their first viewing of this not so ordinary story. It is not a movie that fits perfectly into every critic's comfort zone. Rather, it delves into a far more psychological and emotional place through the pairing of Gus (David Morse) and Robert (Martin Donovan). What audiences get in the pair's story is a story of two men who know each other like brothers. And just as with brothers, the pair have tensions hidden just below the surface that come out when Gus takes Robert hostage after having killed a liquor store clerk. Part of the reason that this movie doesn't fit nicely into the mold of so many critics is that it comes across ironically like one of writer/director Martin Donovan's own personal works. It takes place within the confines of one set--the home of Robert's mother. Most of the pair's time is spent in the home's living room. Through their discussions, one can infer that having known each other through the better part of each other's lives, there is perhaps some jealousy on the part of Gus toward Robert because of Robert's success. Yet through that jealousy, audiences still see a certain bond between the pair that makes for an intriguing dichotomy. This mix of personalities eventually leads the pair to a final climactic moment that will ultimately leave audiences' completely surprised and shocked by the story's end. For the drama inside the house, one can't help but laugh at the seeming social commentary on the general public toward instances such as the standoff. Both Gus and Robert's mother sit outside the house waiting the next developments. At times, their mouths hang agape, eyes wide. It represents what so much of the public does at such cases. Perhaps the funniest moment shared outside the house comes when Robert's mother pulls out her asthma inhaler, proceeds to use it and then is offered a cigarette by one of her friends. It's all audiences can do to laugh at the irony. It's one more aspect that makes this underrated and underappreciated story worth at least one watch by anyone that has enough of an open mind.
Philip S
Discussion Forum
Discuss Collaborator on our Movie forum!