Confessions (Kokuhaku)
(2010)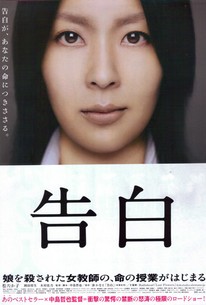 Movie Info
Yuko Moriguchi is a middle-school teacher whose four-year-old daughter is found dead. Shattered, she finally returns to her classroom only to become convinced that two of her students were responsible for her daughter's murder. No one believes her, and she may very well be wrong, but she decides, nevertheless, that it's time to take her revenge. What happens next is all-out psychological warfare waged against her students in an attempt to force them into confessing what she knows in her heart to be true: they are guilty and must be punished.
Critic Reviews for Confessions (Kokuhaku)
Audience Reviews for Confessions (Kokuhaku)
½
Excellent! It was a little hard to follow who was who at times, as it took me a while to realize it was going back and forth in time. By the end I could follow it okay, though. I really liked the look of this film and the use of slow motion, shadows etc - really was beautiful to look at and the story of revenge, once I got used to how it was being told, was excellent. It is quite an achievement that the teacher came across as sympathetic even though she was awful by the end of it. I unfortunately don't get to see a lot of Japanese films, so I have no idea if the cast are well known or not, but they all seemed very good.
Nicki Marie
Super Reviewer
It's another one of those movies that starts well but then drowns in it's own style in the second half. Matsu and Kimura give great performances, Nakashima's obsession with slow mo sequences with radiohead playing in the background get tiredsome pretty quickly. It's also one of those movies that has teen characters that happen to be super genious at something. Overall, a decent effort that falls short of being even something better and more relevant.
Tsubaki Sanjuro
Super Reviewer
½
Wow, I don't even really know where to begin with this one! Confessions is an expertly crafted ensemble drama/thriller about revenge and cruelty. At the center is a teacher whose young child dies in a school pool, but the movie grows to include the narratives of the people responsible for the child's death, as well as others connected to them. It's non-linear and the character focus cycles between several people. I haven't seen many other movies like it, actually. It's thoughtful and contemplative one minute, and brutally cruel the next. Confessions is very dialogue driven (hence, the name), but there are moments of shocking imagery sprinkled throughout that carry the story as much as or more than the words of the characters. I thought the whole film was beautifully shot, with various different camera techniques used to augment the narrative. There's a dreamy, surreal, Virgin Suicides vibe to the whole thing that gives it a sedate pace, but that absolutely works. Will everyone like it? Nope. As I said, this is a fairly different type of film, even among the other Japanese films I've seen. It's hard to tailor my recommendation to the type of person who might like this, but I absolutely would hope that anyone interested gives Confessions a shot.
Confessions (Kokuhaku) Quotes
There are no approved quotes yet for this movie.