Conventioneers
(2005)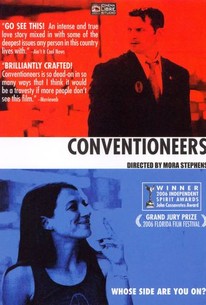 Movie Info
Mora Stephens' Conventioneers details the relationship between two people on the opposite ends of the political spectrum. Taking place during the course of the 2004 Republican National Convention in New York City, a republican man meets back up with a Liberal woman he knew in college. The two begin to fall in love, even though they each have trouble reconciling this new personal passion with their political passion. The tension each feels is exacerbated when a friend of the young woman reveals that he is going to be in apposition to disrupt the President's speech at the convention. The film was shot on location during the actual 2004 Republican Convention, leading to the arrest of some of the filmmakers when they ended up capturing some of their footage without permission.
Critic Reviews for Conventioneers
Audience Reviews for Conventioneers
½
In "Conventioneers," David Massey(Matthew Mabe) is visiting New York City for the first time for a convention. It is 2004 and he is a delegate to the Republican National Convention. While in town, he looks up Lea(Woodwyn Koons), an old friend from Dartmouth. Despite her being busy with the protests, much to the consternation of her Vietnam veteran father(Robert O'Gorman) who wishes she would finally finish her architecture degree, she meets David for lunch but does not finish due to philosophical differences. Later, she goes to his hotel to apologize and they go to his room to raid his snack bar. "Conventioneers" is a fine example of guerilla filmmaking, shot on the streets during the protests. It is not "Medium Cool" but then what is? Actually, "Conventioneers" shows me very clearly what I missed. For the record, I did not see much point in attending the protests at the time because I thought they would be kept out of mind and sight(The Democrats are just as guilty in trying to control the message) and I was afraid I would be risking arrest just by participating.(So, I read Michael Moore's dispatches in USA Today from the safe distance of Denver.) In retrospect, the film gave good reasons why my fears were not that ungrounded, as the end credits testify to crew members being detained during various events. That reinforces the film's major theme of being at a crossroads for not only the country but also the various characters, especially Lea's friend Dylan(Alek Friedman) who is now married and a father and now must be concerned with the consequences of his actions. This is in an America divided, not united, by George W. Bush. Of course, there are people who do not need an excuse, like politics, to argue.
Conventioneers Quotes
There are no approved quotes yet for this movie.