Cool as Ice
(1991)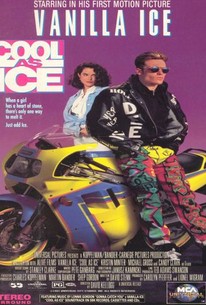 Movie Info
The leader of a motorcycle gang (rapper Vanilla Ice) falls in love with a small-town girl (Kristen Minter) and finds out that while her family is involved in the Witness Protection Program, they are being pursued by corrupt cops. ~ John Bush, Rovi
News & Interviews for Cool as Ice
Critic Reviews for Cool as Ice
Audience Reviews for Cool as Ice
Frigging awful, but I loved it. Vanilla can't act (at all) and his lines are cringe-able, but like a car crash, you can't quite turn away, and his character does have a bratty charm to him. He sings 3 songs in this, so it is padded out with music. Depending on how you feel about Vanilla Ice and his music, that's either a good or bad thing. For me, good, I kind of liked it back in the day. So you have that 90's music video feel to it, atrocious 90's fashions and a rebel gets the good girl storyline all in what is widely regarded as one of the worst movies ever made. I don't think it's a worst movie by a long shot. Yes, Kristen Minter is the only one who can act, and I'm not entirely sure if Vanilla is in on that joke, or he really *does* think he is that cool, but it's engaging, amusing and pretty well filmed. I downloaded this in hd on iTunes and it looks pretty great for its age. The scenes of Vanilla and Kat getting to know each other are quite sweet. Initially I didn't buy the attraction, but as it went on, I warmed to Kat and I could see how they actually were a good match. Things get a little messy in the kidnapping sub plot. That kid can't act who plays the brother. Wow. Still, it's that kind of movie, so I can't hate on him either. Overall, highly recommended to bad movie or 90's fans. It won't be for everyone, but if you fall into one of those categories, you will probably find something in this movie to enjoy.
Nicki Marie
Super Reviewer
This was High School Musical before High School Musical, and for those who know me, that;s definatley NOT a good thing. The plot was stupid, the acting was horrible and the script could have been made by a monkey (Or an HSM fan, but I honestly believe you could get better results from a monkey) Let's start out with the acting. It is a whole new dimension of bad. There wasn;t a single actor who did a good job, but out of everyone, I think Vanilla Ice was the worst actor. You know, when you think about it, Vanilla Ice is a pretty pathetic human being. He can;t sing, he can;t dance and he cannot CAN NOT act. I don;t think I've ever seen such horrible overracting by a main character since Spy Kids 3. He looks like 2Pac's Italian gangstah homeboy. The plot was REALLY stupid and cliche. Basically, it's 1 hr. 32 minutes. So here's the plot. Basically, Vanilla Ice goes to the suburbs and runs into this preppy girl named Kathy, but the parents don;t want them to be together because they're from different worlds. WOAH, I WONDER WHERE I HEARD THAT PLOT IDEA. OUT OF ALL THE MOVIES I'VE SEEN, I CAN;T THINK OF A SINGLE ONE!! As for the script, I'll make it brief. You know your in big trouble when your most memorable line is "Don't be a zero, get with the hero" My God, sounds like something I would hear from Suite Life. However, the worst part of the movie might be the rapping. This rapping, as well as the dancing, is so lame, it makes Drake and Lil Wayne look good. Oh yeah, I went there. Napolean Dynamite might as well be writing the lyrics. Bottom line, one of the worst movies of the 90's. If you value your brain cells, and your reputation, stay away from this movie like cancer.
Marc Lewis
Super Reviewer
Oh man was this bad, but it was bad in that 90's way. The acting is the worst I've seen in a long time. Just awful. I'm not going to lie, it brought back my long standing 1st grade crush on Vanilla Ice.
Alexis Nomm
Super Reviewer
Cool as Ice Quotes
| | |
| --- | --- |
| Johnny Van Owen: | Hey, Cat lose that zero, and get with the hero. |
| | |
| --- | --- |
| Kathy: | "...and I didn't touch it at Nick's house. Shut up." |
| Kathy: | I didn't touch it at Nick's house. Shut up. |