Cops
(1922)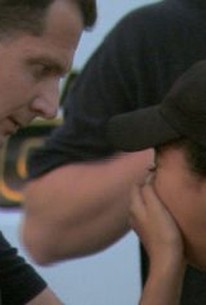 AUDIENCE SCORE
Critic Consensus: No consensus yet.
Movie Info
Although Cops is one of the all-time great two-reelers, its creator, Buster Keaton, never thought much of it. He felt it was just a run-of-the-mill chase film, which suggests that perhaps Keaton was his own worst critic -- the chase is what gives the film its brilliance. The film's beginning is a portent of things to come: Keaton longingly looks at his girl Virginia Fox through what appear to be prison bars. In reality, it's the gate to the mansion where she lives. The girl sends Keaton away, telling him not to return until he is a success in business. Keaton attempts to do so, acquiring, through convoluted means, a horse, wagon, and a load of stolen furniture. Somehow he drives his wagon into the middle of a policeman's parade, where an anarchist's bomb falls in his lap. Carelessly, he lights his cigarette with it and throws it away. It explodes in the middle of the parade, and suddenly Keaton is pursued by every cop in the city. The surrealistic vision of Keaton, small and alone, evading these hundreds upon hundreds of policemen is unforgettable. The filmmaker was both athlete and comic, and here he makes maximum use of both talents, racing down streets, playing a balancing act on a ladder, and casually grabbing hold of a car as it flies past, all in an attempt to evade the cops. When it was first released, this comic short confused many people -- its subtle statements (including its blend of humor and politics) went over the head of the average filmgoer of the '20s. But those same qualities make Cops a classic today.
Audience Reviews for Cops
I think that maybe the whole silent era slapstick thing is really starting to grow on me, and it's probably because of this little 18 minute two reeler. Keaton palys a guy trying to impressive a girl, and does so by trying to become successful in business. Through a convoluted series of events and mix ups, he gets into a lot of trouble, and basically this film is just a really funny version of the classic Hitchcock formula, with a bit of subversion as well. It's a little bit of a slow start up, but once this gets going, it becomes one mother of a chase movie. It's really clever, and Keaton's growing on me as the comedic master he gets trumped up as being. I think I get it here. His timing was good, and he really knew how to take a simple scenario, ramp it up to all kinds of crazy, and really let loose. That, and the ending is just dynamite, especially given the time for which this was made. If you can track a copy of this down, see it. It might not be long, but it's definitely a fun watch.
Chris Weber
Super Reviewer
While Buster Keaton never thought much of "Cops" it has become one of the greatest comedy two-reelers of all time! The film is another chase film but this time there are literally dozens and dozens of cops giving chase to Buster after another series of unfortunate events. The idea of Buster evading literally a town of cops in athletic superiority is almost like watching a culmination of Buster's entity as the confident and always one step ahead being that he had become. The ending, which I won't spoil, isn't the traditional "happy ending" and is hilarious for being so! The film consists of a setup first reel that is still gag filled but slower in it's build up that leads and adds to the second reel in which the full chase takes place. While not consistently frantic the whole film the buildup is definitely the reason the second half is so brilliant!
Chris Browning
Super Reviewer
Hilarious movie with a fantastic chase scene.
Cops Quotes
There are no approved quotes yet for this movie.