Creator
(1985)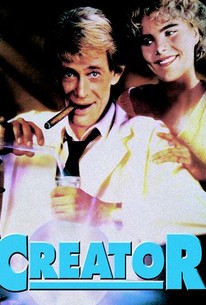 Creator Videos
Creator Photos
Movie Info
This romantic, melancholy twist on the Frankenstein formula stars Peter O'Toole as Professor Harry Wolper, a lonely eccentric who has dedicated decades of research to cloning his long-dead wife Lucy from a culture of living tissue. To this end, he enlists the services of likeable Graduate assistant Boris (Vincent Spano), who is initially baffled by the professor's endless rants about God, Science and "The Big Picture." After Wolper posts bills seeking a human egg donor, his wish is granted by the vivacious young Meli (Mariel Hemingway), in whom the professor soon discovers a more willing convert to his grand design... and perhaps a love more immediate and real than the one he lost. Boris eventually manages to come around to "The Big Picture" himself when Wolper points him in the direction of another graduate, Barbara (Virginia Madsen). Despite opting for a platonic relationship to better determine if they are ideally matched, Boris and Barbara soon fall deeply in love, realizing that they are soul-mates as the professor had predicted. Tragedy strikes, however, when a brain hemorrhage renders Barbara comatose, and Wolper's nemesis Dr. Sid Kuhlenbeck (David Ogden Stiers) persuades the university to shut down Harry's private cloning laboratory. Meli forces Wolper to choose between her love and his misplaced longing for his dead wife... and his answer is suddenly made clear when he witnesses Boris's heartfelt determination to bring his own true love back to the land of the living. Written by Jeremy Leven (based on his own novel), this is a flawed but engaging comedy which proves that a well-written story can incorporate traditional science fiction elements as more than a mere plot device and actually enhance the humanity of the characters.
Rating:
R (adult situations/language, nudity)
Genre:
, ,
Directed By:
Written By:
In Theaters:
On DVD:
Runtime:
Studio:
HBO Video
Cast
Critic Reviews for Creator
Audience Reviews for Creator
This is my ALL time favorite movie, I've watched it well over 100 times and never tire of watching it! NONE of the trailers I have seen of this wonderful - three part love story and highly emotional - film even begin to do it justice. All the trailers and previews portray this movie to be a silly comedy, which could not be further from the truth! Even the musical score from the very beginning of the film gives you the perfect indication you are about to see a movie that you WILL enjoy, and yes, cry. (I bawl my eyes out every time I watch it, both from sadness and happiness!) The entire movie/story/plot from the very beginning to the very end, especially the end (which I am not going to spoil for you here) is why this will become a favorite of yours too, which I guarantee will have you watching it over and over again. There are only a handful of movies that have this quality (for me) and "Creator" is at the top of the list, along with "Lady In White", "Upside Down", "Torch Song Trilogy" and "Parting Glances", just to name a few. Please, watch this movie and enjoy a roller coaster ride of emotions and humor, but not "silly" humor. With an OUTSTANDING cast starring the late great Peter O'Toole, Vincent Spano, Mariel Hemingway, Virginia Madsen and many more you will instantly recognize, this movie is a pure treasure and delight. ENJOY!!! :)
John Zimmer
½
Creator is a better film than its reputation thanks to a fine performance by Peter O'Toole and a good supporting cast including a young Virginia Madsen, Vincent Spano and David Ogden Stiers. The film has its flaws, but is good-natured and often funny if too often sentimental. The plot is actually quite clever for the mid-80's - Peter O'Toole has been cultivating his dead wife's cells for 30 years until technology allows him to recreate her using the fertilized egg of a another woman. It feels just plausible enough to be compelling, and we do wonder if Dr. Wolper will pull it off. O'Toole looks and is cast in a role of a much older man (he was 53 at the time), but his charm and charisma make this worthwhile despite its flaws.
Mark Harper
Super Reviewer
½
Yet another movie I thoroughly enjoyed - twice - but that the Rotten Tomatoes collectivity seemed not to. Mind you, the number of reviews is pretty slim which can make the stats shalt. This was unquestionably schmaltzy and Roger Ebert that there ends up being a lot of different sub-plots but unlie the late, great critic, I didn't find it at all confusing but could see the intentional parallels developed between three great loves - Wolper's for his late wife, of course, but also his slow grudging mutual fall for the prodigal Meli and then his lab assistant's love. It all comes together well, I think, when the brilliant Wolpert must attend to the living rather than the quest for recreating Lucy. The interactions between Meli (Mariel Hemingway) and the rulebook-thumping colleague-competitor of Wolpert's Prof. Kuhlenbeck (David Ogden Stiers) are themselves worth the price of admission.
Norman Dale
Discussion Forum
Discuss Creator on our Movie forum!
News & Features