The Cry
(2008)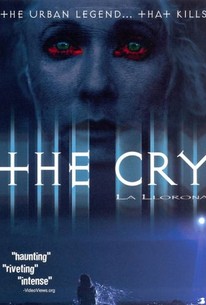 AUDIENCE SCORE
Critic Consensus: No consensus yet.
Movie Info
Venture capitalist-turned-independent filmmaker Bernadine Santistevan leaves behind the world of high-risk investments to craft this supernatural thriller based on the Latino legend of La Llorona - a Medea-like entity who was said to have drowned her children, and whose lingering grief was so powerful that it transcended death. A young mother (Adriana Dominguez) living in New York City has fallen under the deadly spell of La Llorona, and now as a pair of detectives race (Christian Camargo and Carlos Leon) to solve a recent rash of murders, the woman will be forced to realize her connection to the tragic legend in order to protect her child. Over the course of the past five centuries La Llorona has claimed countless lives, and now in order to break the deadly cycle of vengeance this possessed mother will need to seek the assistance of a powerful witch/curandera (Miriam Colón) who may hold the key to saving her child's life.
Critic Reviews for The Cry
All Critics (1) | Fresh (0) | Rotten (1)
La Llorona is a great, powerful and meaningful myth, and you'd be hard-pressed to find better inspiration for a horror film. Sadly, this isn't the film that does the subject matter justice.

Audience Reviews for The Cry
½
The story was interesting, but the movie itself was kinda boring. I think they could've done more with it.
Erin Collins
Super Reviewer
The second worst movie I have ever seen. There was almost no point to the movie at all. Just terrible, it had a great premise but it failed to deliver.
Ryan Monroe
½
The last thing I would call this movie is horror. It actually could have been a made-for-tv movie with the utter lack of violence and scares. I'd put it more in the category of slightly supernatural crime thriller. Minus the thrills. The scariest moment in the movie is as tame 2 woman having red-rimmed eyes because they're possessed. The death scenes are so boring that when a woman drowns her baby, it cuts to the crib mobile with the sound of splashing in the background. In another death,we see a hand under a big sheet. You could watch CSI and get more realism. Overall,not bad for a very PG television show ,but very weak for a movie. The acting isn't bad, the video quality is good,but the plot is a little rushed, making it somewhat confusing. They also clearly tried way too hard to avoid anything but insinuated child deaths,which just made it cheesy and uninteresting. One of the character speaks only Spanish, but instead of subtitling it as she speaks,we have to listen to it AGAIN as the detectives partner translates! It made me want to pull my hair out... no mas! The ending was almost worth it, but cut intentionally short for suspense...
Marissa Rios
The Cry Quotes
There are no approved quotes yet for this movie.
Discussion Forum
Discuss The Cry on our Movie forum!