Cure
(1998)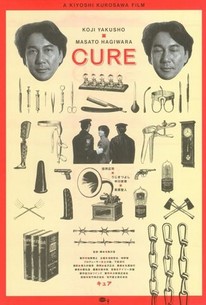 Movie Info
This psychological drama presents Tokyo detective Takabe who is investigating murders in which victims have a large "X" on their chests -- while amnesiac killers are found near the site. Police suspect the unstable, psychiatric student Mimiya of implanting hypnotic suggestions into victims minds to commit the crimes.
News & Interviews for Cure
Audience Reviews for Cure
A detective seeks to solve a series of murders committed by ordinary people, each of whom has come into contact with an amnesiac. Very strange psychohorror taking place largely in the subconscious; nice creepy atmosphere, but it fails to build to a satisfying climax, with the final scene being a particular letdown.
excellent hypnotic serial killer thriller. this is the creepiest film i've seen in some time. much better than average j-horror.
Stella Dallas
Super Reviewer
On another level than homogenized japanese horror films, Cure is an involving crime drama and a moody thriller about serial killings committed through the power of suggestion. The lack of music during key scenes of violence is a bit unsettling as is the use of ambient sound during other scenes which add to the infectious, hypnotic theme. It's far too subtle for the die-hard horror crowd and too unconventional and violent for the art house crowd. Unclouded by narrative reassurance for morality themes such as good guy/bad guy found in Seven or Silence of the Lambs. If you enjoy deep, dark, traumatic, thoughtful psychological drama at its most heavy, tense and serious, Cure is for you.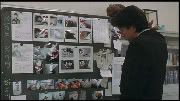 El Hombre Invisible
Super Reviewer
Cure Quotes
There are no approved quotes yet for this movie.