Daisy Miller
(1974)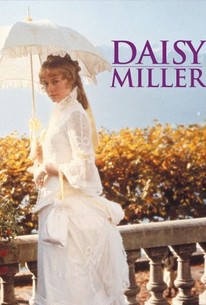 Movie Info
In the late 19th century, a young American woman travels amongst European high society, and sparks a number of conflicts and scandals with her brazenly flirtatious behavior. This period drama is an adaptation of the classic novella by Henry James.
Rating:
G
Genre:
, ,
Directed By:
Written By:
In Theaters:
On DVD:
Runtime:
Studio:
Paramount Pictures
Critic Reviews for Daisy Miller
Audience Reviews for Daisy Miller
½
Painfully boring, the acting is wooden and unappealing, a misguided mess. I do not know what happened to Peter Bogdonovich on this one, especially since he had three smash hits just prior - The Last Picture Show, What's Up Doc? and Paper Moon. A huge disappointment. Cybill Shepherd is way out of her acting league in this one. The sets are excellent though and the cinematography is good, the costumes are exceptional, so it's not a total mess.
James Higgins
½
Cybill Shepard, a fine comedienne in future years and a capable dramatic actress when the part is right, is hopelessly miscast here and throws the entire picture out of balance. Beautiful settings and cinematography and excellent performances from Eileen Brennan, Cloris Leachman and Mildred Natwick offset the damage somewhat but its still a miss.
:rotten: Library [url="http://www.rottentomatoes.com/m/daisy_miller/"][img]http://images.rottentomatoes.com/images/movie/coverv/24/210224.jpg[/img][/url] [b]My Review:[/b] Like the story by Henry James, I disliked the movie as well. It was plain what James was trying to say: An ill-mannered young girl from America is unsuccessfully trying, or possibly not trying, to fit in with European high society. And a young American may, who has lived many years in Europe, is smitten by her but never really makes a move toward her as she is systematically being shunned. I never understood the purpose of the story, and the movie did not help. I guess Cybill Shepherd was okay as Daisy, but she was one-dimensional, annoying and boring. The little brother was so distracting; so unlikeable, as was the mother. You felt sorry for Mr. Winterbourne, but then on the other hand, you didn't. He was conflicted, of course, but the whole thing was just useless and tiring. The best parts were Shepherd's dresses, the scenery, and having been to the Colossseum myself in Rome, it was neat to see it again. In the director's interview, Bogdanovitch says he faded the scene out at the end to give the audience time to compose themselves, feeling they would be in tears. I had to chuckle - tears, indeed! The audience was probably cheering that this movie was finally over! He also said he thought the movie was ahead of its time. I think it was ahead of any time - there will never be the right time for this one! [b]SYNOPSIS:[/b] Cybill Shepherd stars as Daisy Miller, a beautiful, young American being introduced into European society in the 1800s, whose headstrong ways end in tragedy. Frederick Winterbourne (Barry Brown) is immediately drawn to the fetching Daisy, though her youthful high spirits and American frankness clash with Continental etiquette: she's a chatterbox who won't let anyone get a word in edgewise, she's extremely belligerent, and she insists on keeping company with the suave Italian Mr. Giovanelli (Duilio Del Prete) without a chaperone. Naive, trusting, and unaware of the proper behavior, Daisy can't understand why the gentry are shocked by her innocent actions.
XXX --------
Daisy Miller Quotes
There are no approved quotes yet for this movie.