D.E.B.S.
(2004)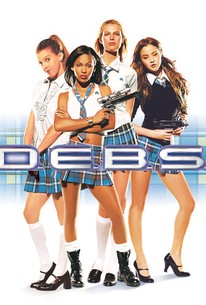 Movie Info
Filmmaker Angela Robinson writes and directs the action comedy D.E.B.S., a feature-length adaptation of her award-winning short film produced by a grant from POWER UP (Professional Organization of Women in Entertainment Reaching Up). This 90-minute spy parody involves a secret crime-fighting unit made up of sexy schoolgirls Amy (Sara Foster), Dominique (Devon Aoki), Janet (Jill Ritchie), and Max (Meagan Good). A government agency recruited them for the team based on their standardized test scores, which assumed a propensity for lying and thieving. Their assignment is to take down major villain Lucy Diamond (Jordana Brewster). As it turns out, all she really wants to have an illicit affair with D.E.B.S. leader Amy. Michael Clarke Duncan plays the president of D.E.B.S. Academy. D.E.B.S. was shown at the Sundance Film Festival in 2004.
People Who Like this movie also like
News & Interviews for D.E.B.S.
Critic Reviews for D.E.B.S.
Audience Reviews for D.E.B.S.
As lightweight as cotton candy with about as much meaning but cute in its flyaway fashion.
½
DEBS is a hilarious spoof. Sure, its spoofs Clueless and Charlie's Angels, but throw in Austin Powers-ish James Bonds films too. Oh, and add a dose of comic lesbianism too. I loved everyone in this production, but especially villain Jordana Brewster (of Fast and Furious fame). She far sexier than Goldfinger or Dr. Evil and younger and less villainous than Demi Moore in CA2. Veterans Holland Taylor and Michael Clarke Duncan display unexpected comedic chops in this silly take on the spy genre. Also, while I'm making comparisons, the ending reminds me of Top Gun mixed with Thelma and Louise! This movie isn't exactly James Bond versus SPECTRE, but those guys never had a bra-snapping scene! So, prepare to be entertained by the smartest sexiest schoolgirls to ever join the espionage game. It's so ridiculous, clichéd, and corny, you have to laugh throughout, but the lesbian relationship angle is handled with surprising maturity. It's a lot of light-hearted fun, and regardless of your sexual orientation, you'll fall in love with Jordana. Maybe it's all part of the designed appeal, but the cheap production quality causes me to deduct a few points.
Clintus Maximus
Super Reviewer
A crazy Charlies Angels meets Heathers meets any number of strange movies with a beautiful cast. Oh yeah and it has Jordana Brewster in it which that alone was enough for me to watch the whole thing. Actually not that bad considering. Was a cute little movie.
John Manard
Super Reviewer
D.E.B.S. Quotes
There are no approved quotes yet for this movie.