Defamation
(2009)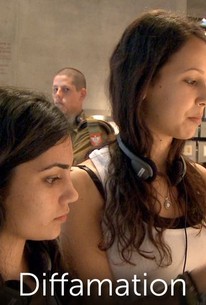 Movie Info
What is anti-Semitism today, two generations after the Holocaust? In his continuing exploration of modern Israeli life, director Yoav Shamir (Checkpoint, 5 Days, Flipping Out) travels the world in search of the most modern manifestations of the oldest hatred", and comes up with some startling answers.In this irreverent quest, he follows American Jewish leaders to the capitals of Europe, as they warn government officials of the growing threat of anti-Semitism, and he tacks on to a class of Israeli high school students on a pilgrimage to Auschwitz.On his way, Shamir meets controversial historian, Norman Finkelstein, who offers his unpopular views on the manner that anti-Semitism is being used by the Jewish community and especially Israel for political gain. He also joins scholars, Stephen M. Walt and John J. Mearsheimer, while they give a lecture in Israel following the release of their book The Israel Lobby and U.S. Foreign Policy, about the un-proportional influence the Israel lobby in Washington enjoys. Yoav visits Yad Vashem, the Holocaust memorial museum in Jerusalem, the must stop for all world leaders on their visits to Israel. While in Jerusalem, he drops by the house of his grandmother that offers her insight on the issue and declares that she is the real Jew.The film questions our perceptions and terminology when an event proclaimed by some as anti-Semitic is described by others as legitimate criticism of Israel(TM)s government policies. The film walks along the boundary between anti-Zionism, rejecting the notion of a Jewish State, and anti-Semitism, rejecting Jews. Is the former being used to excuse the latter? And is there a difference between today(TM)s anti-Semitism and plain old racism that is affecting all minorities?Opinions often differ and tempers sometimes flare, but in Defamation we find that one thing is certain - only by understanding their response to anti-Semitism can we really appreciate how Jews today, and especially modern Israelis, respond to the world around them, in New York and in Moscow, in Gaza and Tel Aviv. -- (C) Official Site
Rating:
NR
Genre:
, ,
Directed By:
Written By:
In Theaters:
On DVD:
Runtime:
Studio:
News & Interviews for Defamation
Critic Reviews for Defamation
Audience Reviews for Defamation
½
"He who forgets history is doomed to repeat it." - George Santayana It's always kind of frustrating when there is a movie whose conclusion I agree with but where the logic is especially faulty and that's very true for "Defamation." On the one hand, I agree with filmmaker Yoav Shamir that one can be critical of Israel without being anti-semitic, although there are many poeple who do so for exactly that reason. But then according to this documentary, anti-semitism does not exist in this day and age. Although, he did find it on a street corner in Brooklyn faster than you could find an egg cream. Sure, Abe Foxman, National Director of the Anti-Defamation League, might just be exaggerating but that's how you fundraise, by scaring your demographic(For example, an arts movie theatre could say that if you don't support them, they will be showing "Fast Five" this upcoming weekend), and it's questionable the extent of the influence he has with Israeli authorities. As a result, the documentary shows tabloid journalism is pretty much the same wherever you go. Shamir's other target is a class trip of Israeli students to visit a former concentration camp in Poland, in reality not to indoctrinate them, but because youngsters were starting to lose touch with their past. Actually, it will probably make them more empathetic to the sufferings of others. You just have to make them understand that the Holocaust was not a unique event.
Amazing documentary made by a Jewish Israeli searching for actual anti-Semitism since Israeli media demonstrates incidents continually. He is granted access to the ADL and Abe Foxman (who admits he uses the conspiratorial view of Jews to his advantage). They have a very difficult time finding any anti-Semitic stories he can cover. He also travels with a group of the 10s of thousands of Israeli high school students who visit Auschwitz every year. The interviews with the students are very revealing as it shows there total indoctrination to Zionism as a correct and moral philosophy. Total victim-hood as a way of life. Another great interview was with the filmmakers grandmother who really speaks the truth about Jews wrongly profiting off the backs of others. Some interviews with average Black New Yorkers on the street are very interesting. Other interviews are with John J. Mearsheimer and Norman Finkelstein.
D M
Thought-provoking indeed. Basically, Yoav Shamir, who has a pleasant, almost sing-songy way of speaking English, approached the topic of anti-Semitism in this day in age as being an integral part of a Jewish identity, especially in Israel, as a force of nature, as a constant buzz - starting with the fact that he had never actually experienced it himself! One thing I found really interesting to see played out was when the Israeli "kids" (high school kids) went to Poland to visit Holocaust sites, memorials and museums and one in particular was so convinced that Poles would be anti-Semitic that a question about where she was from (which she actually couldn't understand) got embellished by her and her friend to the point that attributed to this man was calling bitches and donkeys because they were from Israel. While I could accept the everyone-is-an-anti-Semite argument from a Holocaust survivor, it seems demented coming from such young people. Just like Norm Finkelstein compared his upbringing where everything was compared to Auschwitz, everyone calls everyone else a Nazi in Israel. A fascinating phenomenon. I was very impressed with how he let people speak for themselves without shying away from asking certain questions - of the left critics and the objects of their criticism. Even when some Black residents of a "mixed" Black and Jewish neighborhood in Brooklyn slipped into anti-Semitic stereotypes, I felt that the whole problem there was segregation and a lack of understanding - there seemed to be no malice, just bewilderment and I am inclined to believe that clashes between Jews and Blacks do not happen all that often and agree with that one rabbi that it's absurd to take any conflict that involves a Jew and call it anti-Semitism. Uri Avnery said you'd have to use a microscope to find anti-Semitism in the U.S., where Jews have never had it so good. Norm Finkelstein pointed out that when there is so much hunger, starvation, humiliation, war, death, destruction - when all this exists, it is offensive to go on the hunt to find anti-Semitism as if it is more than usually ignorance, especially in the US - but religious Jews in Moscow seemed to offended at the idea brought from Israel by Shamir that people are so anti-Semitic in Russia - one interesting idea was that secular Jews cling to anti-Semitism and see it as a part of their identity, whereas religious Jews aren't all that bothered by it, they're too busy practicing Judaism. The one tour guide in Poland said some interesting things about Israeli culture emphasizing death so much, living in that feeling so much that they can't be a normal people. Two "kids" spoke about having such a high threshold for suffering (comparing everything to the Holocaust, the most incomprehensibly cruel event in modern history) and that when they see Arab homes demolished on TV it seems like nothing compared to gas chambers, etc. Really interesting insights. In the end, it only benefits the State of Israel for their young people to be imbued with a sense that the entire world is populated by anti-Semites, to routinely bathe in the blood of the Holocaust - it doesn't benefit Israelis to define themselves as victims. It must be crippling for some and there are plenty of cultural-political criticisms that say it has a culturally deadening effect on Israeli society. It's tragic that people so earnestly believe that everyone is out to get them; the fear is as real as a white woman thinking any Black man she meets on the street at night will rape her, but it's every bit as paranoid and unreasonable. One tenet of Zionism is that anti-Semitism will always exist and that Jews can never assimilate, which like the disturbing idea about patriarchy that men have always and will (presumably) always oppress women has no hope, no future in it. A number of the people in the film, many religious Jews and Israelis, expresses this sentiment in merely the title of his book, The Holocaust Is Over: We Must Rise From its Ashes. That it is detrimental to Israelis to see Nazis everywhere and a Holocaust always on the way - it can keep people in Israel (not those thousands of migrants moving to Germany, Poland and elsewhere), but it has to be harmful.
Courtney Smith
Defamation Quotes
There are no approved quotes yet for this movie.
Discussion Forum
Discuss Defamation on our Movie forum!