The Designated Mourner
(1997)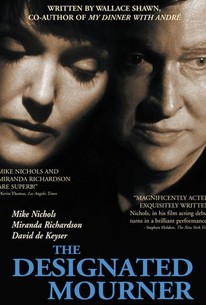 The Designated Mourner Videos
The Designated Mourner Photos
Movie Info
In a country ruled by an oppressive government, Jack is a designated mourner -- a member of a large family, chosen to grieve over the last dying member of the group. His friend Jack is a free-spirited poet. As the film progresses, more complete character profiles are developed.
Rating:
R
Genre:
,
Directed By:
Written By:
In Theaters:
On DVD:
Runtime:
Studio:
First Look Pictures
Critic Reviews for The Designated Mourner
Audience Reviews for The Designated Mourner
If you are in the mood for it...you often aren't
John Ballantine
Super Reviewer
½
Three people sit at a table and deliver a number of monologues that meld into a tale of oppression and fascism. That's what happens in David Hare's "The Designated Mourner". The filmed monologue is not a new idea; Spalding Gray did it quite successfully in "Monster in a Box" and "Swimming to Cambodia". This time around, though, the script (by Wallace Shawn, of "My Dinner With Andre") probably works better as a stage play. If today's attention-deficient audience can get past this initial concept, they'll find a nicely layered story. At the table are Jack (Mike Nichols), his wife Judy (Miranda Richardson), and her father Howard (David de Keyser). Howard is an intellectual and a poet who finds himself an enemy of the (unknown) state. Judy feels a duty to her father and the fight against the increasingly dangerous government. Jack struggles with the intellectualism he feels he's supposed to have and the actual state of his nature - in his own words, he's a "low-brow". It's Jack's story, and by the end of it - after the intellectually elite have been either imprisoned or assassinated - he will discover not only the folly of his indifference, but the pointlessness of feeling otherwise. The actors all do adequate jobs, but I get the feeling they better presented the material on stage. (The movie was filmed at the same time David Hare was directing the stage production in London.) Nichols looks like he's constantly trying to stifle a yawn. But the story is the most important element. It first evokes images of Nazi Germany, and it made me wonder, again, how something like that could happen as recently as seventy years ago. Then, of course, I realized this sort of thing happens right now in the Middle East. But all of these actors play their roles with American accents. Surely something like this couldn't happen here. Then I realized the man we call president wants a constitutional amendment discriminating against homosexuals. They did that in Nazi Germany - as well, of course, as non-Aryans - and look what happened there. Then I realized the FCC is spending all of its time trying to control what Americans can watch on TV and listen to on the radio. Your internet access is being monitered too, by the way. They burned books in Nazi Germany. And look what happened there.
Sean Frith