Desperate
(1947)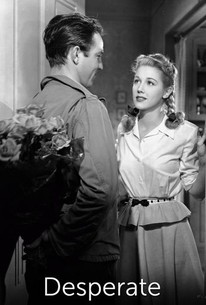 AUDIENCE SCORE
Critic Consensus: No consensus yet.
Movie Info
The first entry in director Anthony Mann's series of noir films, Desperate is a disturbing twist on traditional moral values, responsibility, and guilt. Steve Randall (Steve Brodie) is a truckdriver who accidently is involved with a gang in the murder of a cop. One of the gang is captured, convicted, and sentenced to die in the electric chair. To save his fellow gang member. Walt Radak (Raymond Burr) threatens to murder Steve's wife Anne (Audrey Long) if Steve doesn't confess to the crime. Steve and Anne flee to an isolated farm but they are found, leading to a violent conclusion. Mann directs with an assured style and creates a world in which physical violence is very real and very brutal. Steve Randall , while innocent, runs for his life without even considering the consequences of his actions. Mann creates a grim world, hearless, unjust and driven by desperation.
Rating:
NR
Genre:
,
Directed By:
Written By:
In Theaters:
Runtime:
Studio:
RKO Pictures
Critic Reviews for Desperate
Audience Reviews for Desperate
½
Great direction and cinematography, pretty good acting, but a mediocre script. Sadie really disliked this one, and she let me know while we were watching.
Justin Remer
Meh. Ho-hum cat-and-mouse noir in which a truck driver gets imbroiled in a deadly heist and has to protect himself from the law, and his wife from the gangsters. The photography allows for some nice moments, but the plot is pretty formulaic. The real problems is that the lead actors Steve Brodie and Audrey Lane fail to inspire, they're too earnest and one-dimensional. Worthwhile for the cinematography, tense climax, and Raymond Burr. Otherwise kind of blah.
Martin Teller
Desperate starts off as a hokey enough and paint-by-numbers film noir thriller about a good guy in the wrong place at the wrong time. The story's straightforward and frankly, its not exactly something you haven't seen before. But what makes Desperate a bit better is director Anthony Mann's direction and the way he takes a reasonably lukewarm story then builds and builds--right up to a fantastic stairway climax worthy of the Film Noir Hall of Fame. A must see for fans of Mann (especially when you see glimpses of what would later become some of the greatest westerns ever that he would later make), that final scene aside, not so much for fans of noir. Consider it a small part of a bigger potato chip at the bottom of the bag when you've already eaten all the greater ones--you don't necessarily regret taking it in but it won't be the one you remember the bag for...
Michael Gildea
Super Reviewer
Desperate Quotes
There are no approved quotes yet for this movie.