Divan
(2004)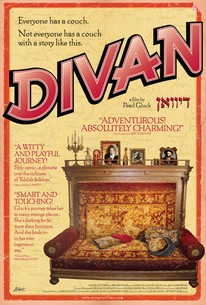 Movie Info
A young woman who had previously forsaken the Orthodox lifestyle attempts to make amends with her father by acquiring a couch said to have been used by many famous Jewish figures in this humorous documentary from filmmaker Pearl Gluck. As a teenager, Gluck rebelled against her Orthodox upraising by moving to Manhattan to experience life on the secular side. When Gluck's father expresses a desire for his daughter to marry and return to Brooklyn, Gluck attempts to reach a compromise with her father by traveling to Hungary and retrieving a turn-of-the-century couch from her family's past that is said to have been slept upon by a series of esteemed rabbis.
Audience Reviews for Divan
[font=Century Gothic]In the documentary, "Divan", Pearl Gluck tells the story of a couch but it is no ordinary couch. As the story goes, in 1879 Hungary, a Hasidic Rebbe is looking for a place to rest for the night and is offered a couch by a poor family. In the morning, he mentions the roughness of the couch and the poor family finds a treasure in the couch which they use to build a synagogue.[/font] [font=Century Gothic][/font] [font=Century Gothic]Pearl Gluck has a doozy of a couch story of her own to tell in this poignant and heartfelt documentary which uses that story as a starting point to explore Hasidic culture, specifically the Hasidic enclave of Boro Park in Brooklyn.(As a child, Gluck was raised in a Hasidic household but left with her mother when her parents divorced.) She receives a grant to collect Hasidic stories in Hungary. While there she looks for the above mentioned couch and makes enquiries about bringing it back to the states, all the while filming her results.[/font]
Divan Quotes
There are no approved quotes yet for this movie.