Ecstasy (Ekstase) (Rhapsody of Love) (Symphony of Love)
(1933)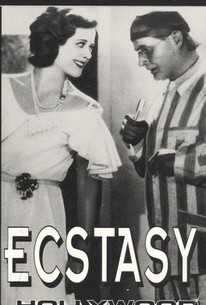 Movie Info
Except for the title, Ecstacy bears little resemblance, in plot or in quality, to the erotic Czech classic of 1933. Tiffany Bolling, who once upon a time played such respectable roles as Regina Hubbard in Another Part of the Forest, takes the money and runs in yet another heavy-breather. This time she's the frustrated wife of a film director. Bored, Bolling decides to cast about for a glamorous, independent life of her own, resulting in series of sexual escapades. Jack Carter, Britt Ekland and Julie Newmar show no signs of embarrassment while appearing in their brief supporting roles.
Critic Reviews for Ecstasy (Ekstase) (Rhapsody of Love) (Symphony of Love)
Audience Reviews for Ecstasy (Ekstase) (Rhapsody of Love) (Symphony of Love)
This is one of those early talkies that didn't take advantage of the fact that they could now have the characters engage in interesting, lengthy, and character building conversations. This movie could have been a lot better than it was if it had taken the chance of writing great dialogues for the characters. Instead they go around doing normal uninteresting, for the most part, everyday things. The only plus side to this movie is the nudity, which would have been extremely controversial for the 30s.
½
Scandalous for it's time, Ecstasy is somewhat of a 'bridge' film. It ties together the silent film era with that of talkies, and it links pre-code cinema with imposed censorship. Though it has scoring and sound there is very little dialog. (Director Gustav Machaty was obviously schooled in the techniques of silent pictures.) Even if it is noticeably short on script, Ecstasy is thick with beautiful scenery and artistic camera angles. Machaty was much more interested in the art of his cinematography than in the substance of his story. Best known for the extraordinary nude scenes of the beautiful Hedy Lamarr, Ecstasy is more remarkable for it's significance as a milestone in the history of motion pictures than as a 1930's classic film.
Randy Tippy
Super Reviewer
½
Only worth watching to see a very young Hedy Lamarr swimming and running through the forest nude. Otherwise pretty dull.
Ecstasy (Ekstase) (Rhapsody of Love) (Symphony of Love) Quotes
There are no approved quotes yet for this movie.