Elite Squad: The Enemy Within
(2011)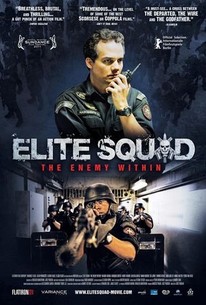 TOMATOMETER
AUDIENCE SCORE
Critic Consensus: Elite Squad: The Enemy Within is a bleak, violent descent into the Brazilian underbelly, ripping into the favelas with unstoppable and kinetic force.
Elite Squad: The Enemy Within Photos
Movie Info
The sprawling slum that towers over Rio de Janeiro is one of the most dangerous places on Earth, and as the head of Rio's BOPE (Special Police Operations Battalion), Captain Nascimento (Wagner Moura) has seen his share of intense situations. When a BOPE mission to stop a jail riot ends in violence, Nascimento finds his job on the line--and BOPE accused of a massacre by human rights activists. But a public fed up with the violence and gangs that plague Rio loves it, and Nascimento finds himself embraced as a hero who gets results. With elections around the corner, he's promoted to Sub-Secretary of Intelligence. In his powerful new post, Nascimento strengthens BOPE and brings the drug gangs that run the slum to their knees-- only to come to the sobering realization that by doing so, he's only made things easier for the corrupt cops and dirty politicians who are truly running the game. After years in the trenches, Nascimento now finds that his new enemies are much more dangerous and, even worse, sitting at desks just down the hall. -- (C) Official Site
News & Interviews for Elite Squad: The Enemy Within
Critic Reviews for Elite Squad: The Enemy Within
Audience Reviews for Elite Squad: The Enemy Within
½
Even better than the exceptional first movie, it presents an intelligent story in which drug trafficking in Rio de Janeiro is beaten but then a new enemy rises - a potential scenario that exposes a complex social cancer that goes all the way up to the politicians, including the corrupt Military Police and the shady interests of the media.
Carlos Magalhães
Super Reviewer
Whereas it's predecessor was an unflinching street-level document of the elite "Special Police Operations Squad" of Rio de Janeiro, and the first-person turmoils of it's Captain Roberto Nascimento, "Elite Squad: The Enemy Within" is infinitely broader in scope. This film explores the facets of corruption from the ground level, all the way up to the hights of politics in an ambition, angry, and unforgettable way (while feeling just as personal as the first film). "Elite Squad: The Enemy Within" is not only better than "Elite Squad," it plays like and ranks with some of the best crime sagas out there.
It`s The Wire meets The Departed. A masterpiece. An unforgettable and breathtaking action film, they dont get better than this. It`s a pure slam-bang knockout of an action movie. It packs an intense blow of story, characters, politics and realism into one explosive tour de force. A cripplingly dramatic and well-constructed flick. A stylish, heart-pounding, twist-filled and action-packed edge of your seat thriller that sets the screen ablaze. A powerful and electrifying movie. I loved this film. It`s angry, complex and very compelling all the way through. A real eye-opener that`s smart, fresh and utterly exhilarating. Wagner Moura gives an astonishing performance that deserves awards attention, he has never been better. A brilliant piece of work that stands with filmmakers like Coppola and Scorsese. It`s top-notch and truly superb. Bravo Director, Jose Padiha, this directors got talent and i hope to see more of his work in the future. An adrenaline-charged and tremendously entertaining thrill-ride that truly just rocks
Elite Squad: The Enemy Within Quotes
| | |
| --- | --- |
| Captain Nascimento: | I was lucky I identified my real enemies in time. When they came for me, I was not alone. |
| | |
| --- | --- |
| Fábio: | "If you wanna screw me start by kissing me!" |
| Fábio: | If you wanna screw me start by kissing me! |
| | |
| --- | --- |
| Beirada: | [Before setting up fire on the rival drug dealer] They fatten up the pig, now we gonna roast it. |
| Beirada: | [before setting up fire on the rival drug dealer] They fatten up the pig, now we gonna roast it. |
| | |
| --- | --- |
| Lt. Colonel Nascimento: | The truth is that my war against the system was just beginning, and this time would be personal. |