Elves
(1989)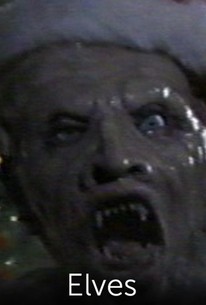 AUDIENCE SCORE
Critic Consensus: No consensus yet.
Movie Info
This particularly bizarre horror variant on Joe Dante's Gremlins (1985) was directed by newcomer Jeff Mandel. The ridiculous plot concerns the efforts of a group of Nazis to set the stage for a Fourth Reich by mating one of Santa Claus' elves with a pretty teenaged waitress (Julie Austin). The cast is peppered with former television stars, including Deanna Lund of Land of the Giants as Austin's mother (she kills cats and has a nude scene) and Dan Haggerty of The Life and Times of Grizzly Adams as a drunken department-store Santa who used to be a detective. Even better is Haggerty's predecessor, a cocaine fiend who gets castrated by the Nazi elves. Mandel went on to co-direct Robo-C.H.I.C. (1989), which was almost as bad.
Rating:
PG-13
Genre:
,
Directed By:
Written By:
On DVD:
Runtime:
Studio:
Windstar Studios
News & Interviews for Elves
Audience Reviews for Elves
A very goofy and (unintentionally) funny movie that feels boring sometimes, but in all is a silly good time. 10/100
M. C.K.
½
I found this movie to be very entertaining. The over the top plot involving a Nazi elf and Dan Haggerty playing a down and out, chain smoking, detective turned mall Santa. This is a must see for anyone who likes cheesy 80's horror movies or Dan Haggerty.
George Hanna-Wilson
½
Elves is a hilarious and surprisingly dark Christmas film about three very dumb girls (who seem to act WAY too much like Valley girls in such a small town) awaken one very nasty Elf when the lead girl's blood spills on the ground. Somehow, the elf is the creation of Nazis in order to breed with a virgin to create a master race of Christmas elves! Awesome! Now, it's up to said lead girl and old Grizzly Adams himself (Dan Haggerty playing the mall Santa with nary a scene within this movie without a cigarette in hand, lol) to come to the rescue and stop this murderous elf before it takes over the world. It doesn't get any better than this, folks. Everything is on par with so-bad-it's-good quality: the acting (though Haggerty is a blast to watch), the effects, the direction, everything! Also, for all you nudity enthusiasts, it's very brief, but the lead girl's villainous mom has an excellent full-body nude scene that's surprisingly decent for her age. Any avid fan who watches this will certainly enjoy it's....charm, especially if they go into it with lowered expectations. Honestly though, who could say no to a film with such groundbreaking dialog like "Die you faggot" and "When there's no more room in Hell, the Elves will walk the Earth"? Also, this film needs to make the leap onto DVD. I would certainly buy this hot mess!
Jason Duron
Elves Quotes
There are no approved quotes yet for this movie.