Enter the Dragon
(1973)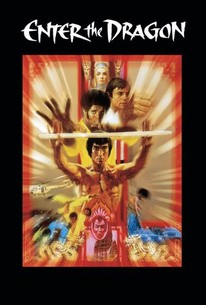 Movie Info
One of the most popular kung fu films ever, and perhaps the peak of the famed Bruce Lee's career, Enter the Dragon achieved success by presenting a series of superbly staged fighting sequences with a minimum of distractions. The story finds Lee as a martial-arts expert determined to help capture the narcotics dealer whose gang was responsible for his sister's death. This evil villain operates from a fortified island manned by a team of crack martial artists, who also host a kung fu competition. Lee uses his skills to enter the contest and then tries to chop, kick, and otherwise fight his way into the dealer's headquarter. The story is, of course, merely an excuse for showdown after showdown, featuring masterly fighting by Lee in a wide variety of martial arts styles. Essential viewing for martial arts fans, the film was also embraced by a larger audience, thanks to a fast pace and higher-than-usual production values. ~ Judd Blaise, Rovi
News & Interviews for Enter the Dragon
Critic Reviews for Enter the Dragon
Audience Reviews for Enter the Dragon
The quintessential Kung-Fu action flick that made Bruce Lee an international star. Despite being a tad dated, this is still a fantastic action movie through and through. It's well-directed, the music by Lalo Schifrin is great, and the action is fast and well-choreographed. All three of the main leads are also great (Bruce Lee, John Saxon, Jim Kelly).
Christopher Heim
Super Reviewer
In the film's opening flashback scenes, when the star, Bruce Lee, is told of his sister's murder, even a total lamebrain (like say, f'instance, me) understands that a total macho-on-steroids asskicking lollapalooza is on its way (and the soul of kung fu stands represented as essentially a poor man's revenge against injustice - thus the ghetto appeal). With an truly exotic locale, China, and a cast of kung fu asskickers one after another its a wonder this work hasn't been more imitated --- if anyone could replicate Lee's asskicking charisma. Did I say "asskicking" 3 times? No. More.
Kevin M. Williams
Super Reviewer
Bruce Lee vs. Chuck Norris. Even today the world's not ready for the epic-ness of this film.
Joshua Wilburn
Super Reviewer
Enter the Dragon Quotes
| | |
| --- | --- |
| Lee: | What was that? An exhibition? I said Emotional content, not anger. Now try again! |
| | |
| --- | --- |
| Messenger: | (Slap on the forehead) "Don't think.....feeeeeel!!" |
| Messenger: | Don't think... feel. |
| | |
| --- | --- |
| Williams: | Mr Han, suddenly I wish to leave your island. |
| Han: | It is not possible. |
| Williams: | Bullshit, Mr. Han-man. |
Discussion Forum
Discuss Enter the Dragon on our Movie forum!