Escape From Alcatraz
(1979)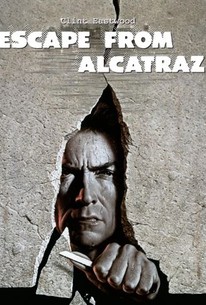 Escape From Alcatraz Videos
Escape From Alcatraz Photos
Movie Info
No one can escape from Alcatraz, right? Try telling that to lifer Frank Morris (Clint Eastwood). This Donald Siegel-directed nailbiter is a reenactment of Frank Morris' 1962 attempt to bust himself and two other cons out of The Rock. Eastwood, as Morris, tilts with nasty warden Patrick McGoohan for a while, befriends several fellow prisoners, and picks the guys with whom he'll make his escape. Among his break-out buddies are the Anglin Brothers (Fred Ward and Jack Thibeau), with whom he'd served in other lockups, and several others who've got their own special reasons to despise the sadistic McGoohan. Filmed on location at the newly renovated Alcatraz, Escape From Alcatraz was another box-office winner for the Eastwood/Siegel combo.
News & Interviews for Escape From Alcatraz
Critic Reviews for Escape From Alcatraz
Audience Reviews for Escape From Alcatraz
½
An efficient prison break movie that manages to be tense and gripping, even though there is nothing really memorable about the plot and it doesn't even make any attempt to conceal its artificial and clearly manipulative efforts to create suspense in many key scenes.
Carlos Magalhães
Super Reviewer
Maybe for its time, it was considered a great masterpiece but with little character development and no real emotions it's hard to like this slow paced uneventful long movie!
Film Crazy
Super Reviewer
Warden: Some men are destined never to leave Alcatraz... alive.  "No one has ever escaped from Alcatraz... And no one ever will." Escape From Alcatraz has always been a movie of great interest to me. I've seen it probably a dozen times by now and I still am engrossed by every minute of it. I first watched this movie when I was nine years old, shortly after visiting Alcatraz. The prison is an eerie place and the movie brings that out through the characterization of the inmates and especially of the warden. The film has obviously been worn down over the years, but I still hold it up as one of the best prison movies out there. Especially, prison escape movies. Frank Morris arrives at Alcatraz and is told by the warden that it is inescapable. Morris had broken out of prisons before and that's why he was sent to Alcatraz. He starts nosing around trying to find a way out, when two old prison buddies show up. They too were sent to Alcatraz for breaking out of prison. Through prison jobs  they get the necessary equipment they need to try to break out of there cells and hopefully the prison altogether. The ending isn't much of a secret, unless you know absolutely nothing about the history of Alcatraz, but it is a suspenseful film nonetheless.  Don Siegel and Clint Eastwood are again collaborating on this one, and it, to me, is their best collaboration. Eastwood is playing a prototypical Eastwood character, while a nice supporting cast brings presence to the characters around him. There's intrigue in the friendships, anger at the warden, and a hope that Frank can really make it out. The movie succeeds because it is able to make us care if a criminal is able to make it out.  The film isn't a masterpiece by any stretch, but what it is, is a cool and intriguing film about one of the most famous jailbreaks in history. Actually, THE most famous jailbreak in history. I wouldn't call it a must watch, but if you are a fan of Eastwood or at all interested in Alcatraz, it is a very worthwhile film. The pacing is just right and we all know Siegel knows how to create suspense from just about anything. There's not a lot of action in the movie, mostly plotting the escape and what not, but the suspense level couldn't be higher throughout the whole film.
Melvin White
Super Reviewer
Escape From Alcatraz Quotes
There are no approved quotes yet for this movie.
Discussion Forum
Discuss Escape From Alcatraz on our Movie forum!