Exporting Raymond
(2011)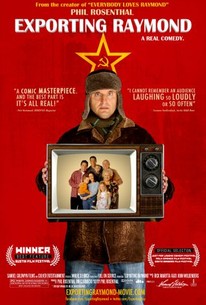 Movie Info
EXPORTING RAYMOND tells the hilarious journey of Phil Rosenthal, considered an expert in his country having created one of the most popular television shows of all time, who travels to a foreign land to help people who don't seem to want his help. When Rosenthal joins forces with Hollywood studio Sony Pictures Television to recreate "Everybody Loves Raymond" for Russian TV audiences as "Everybody Loves Kostya," he finds himself lost in Moscow, lost in his mission, lost in translation. Rosenthal tries to connect with his Russian colleagues but runs into unique characters and situations that conspire to drive him insane. The movie is a true international adventure, a genuine, "fish out of water" comedy that could only exist in real life.--(c) Samuel Goldwyn
News & Interviews for Exporting Raymond
Critic Reviews for Exporting Raymond
Audience Reviews for Exporting Raymond
½
"Exporting Raymond" is an entertaining documentary about Philip Rosenthal's attempts to export the hit sitcom 'Everybody Loves Raymond,' inspired by his elderly parents' inability to turn on their computer, to Russia(where it is now called 'Everybody Loves Kostya') wherein he also takes a couple of witty shots at the fourth wall. With the exception of a particularly fashionable costume designer, Rosenthal discovers most of the problems to not be cultural, as he proves beyond a doubt how universal family and marriage are, but economic, as he finds production values lower than he is used to, making the use of a studio audience more than slightly improbable.(As far as cultural differences, this is nothing compared to "The Bridge" being transposed from Scandinavia to El Paso/Juarez.) Russia being such a gilded society also explains the success of shows like "Who's the Boss?" and "The Nanny"(It's as hard to imagine "The Nanny" being done without Fran Drescher, as it is with her.) there and that maybe getting the kidnap and ransom insurance may not have been such a bad idea, after all.
½
A little long but it's an interesting look at how different cultures adapt TV shows and what they consider is funny.
Bobby Diablo
At times Exporting Raymond seems to drag from boredom, but at times it becomes semi interesting when it shows how television works in Russia. Phillip Rosenthal seems like a nice guy, but we have to sit through his forced reactions to various things in Russian culture. Its cool to see how other countries recreate popular American sitcoms and this movie has some funny moments, but I was never truly interested.
Chris Miele
Super Reviewer
Exporting Raymond Quotes
There are no approved quotes yet for this movie.
Discussion Forum
Discuss Exporting Raymond on our Movie forum!