Faded Memories
(2008)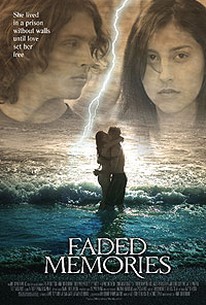 AUDIENCE SCORE
Critic Consensus: No consensus yet.
Movie Info
A 17-year-old misfit afflicted by a rare phobia finds her romance with a handsome teen setting off a tragic sequence of events in the feature screenwriting/directorial debut of teenage filmmaker Anne-Sophie Dutoit. Cassandra (Dutoit) suffers from a paralyzing disorder that makes her intensely afraid of physical contact. Unable to form any kind of meaningful human connection as a result of her irrational fear, Cassandra drifts from town to town with her damaged aunt Maggie May (Ely Pouget), whose endless quest for another man and another bottle has gotten the pair into some precarious situations in the past. Upon arriving in Malibu, CA, Cassandra begins to develop feelings for sympathetic teen Lucas (Brook Vincent Kelly). Unlike the other kids, Lucas can see past Cassandra's illness to recognize the true beauty that dwells within. But Lucas' father is dying, and in order to keep their family from going bankrupt his overbearing mother, Nancy (Kim Morgan Greene), is struggling to marry her son off to local girl Pam (Marika Devan), the scion of immensely wealthy parents. Nancy will do everything in her power to keep Lucas and Cassandra apart, eventually recruiting local detective Peter (Nick James) to dig into Cassandra and her aunt's questionable past. Eventually, as a result of the detective's findings, Cassandra is placed in a mental health facility. But Cassandra never stops dreaming of the day Lucas will come and save her, and after seven long years of writing letters that remain unsent, she is released back into society to solve the mystery that has haunted her for nearly a decade.
Critic Reviews for Faded Memories
All Critics (2) | Top Critics (2) | Fresh (0) | Rotten (2)
Containing enough wild revelations and tearful confrontations to fill several seasons of an average telenovela.
If this was secretly intended as some kind of satire, it's brilliant.
Audience Reviews for Faded Memories
Incessantly maudlin and downright terrible-- Faded Memories almost has to be seen to be believed. Really, I could swing violent sucker punches all over this strident vanity project, but it would be like kicking an old man on crutches. Now, who the fuck thought funding this embarassing trash was a good idea? This is not an offense to Mrs. Dutoit as a person, but this is one of the worst films that I have ever seen. Sure thing is, it was rotten enough to qualify as a 90-minute hoot in a room full of not-so-sober young adults at a party. I think I laughed here more than I did in all the Will Ferrell films I have seen combined. Thank you, Anne-Sophie.
Laurence Collin
Super Reviewer
Faded Memories Quotes
There are no approved quotes yet for this movie.