Fantastic Beasts: The Crimes of Grindelwald
(2018)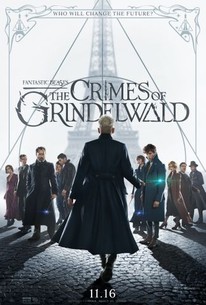 TOMATOMETER
AUDIENCE SCORE
Critic Consensus: Fantastic Beasts: The Crimes of Grindelwald has glimmers of the magic familiar to Harry Potter fans, but the story's spell isn't as strong as earlier installments.
Fantastic Beasts: The Crimes of Grindelwald Videos
Fantastic Beasts: The Crimes of Grindelwald Photos
Movie Info
At the end of the first film, the powerful Dark wizard Gellert Grindelwald (Depp) was captured by MACUSA (Magical Congress of the United States of America), with the help of Newt Scamander (Redmayne). But, making good on his threat, Grindelwald escaped custody and has set about gathering followers, most unsuspecting of his true agenda: to raise pure-blood wizards up to rule over all non-magical beings. In an effort to thwart Grindelwald's plans, Albus Dumbledore (Law) enlists his former student Newt Scamander, who agrees to help, unaware of the dangers that lie ahead. Lines are drawn as love and loyalty are tested, even among the truest friends and family, in an increasingly divided wizarding world.
News & Interviews for Fantastic Beasts: The Crimes of Grindelwald
Critic Reviews for Fantastic Beasts: The Crimes of Grindelwald
Audience Reviews for Fantastic Beasts: The Crimes of Grindelwald
½
You could argue that a blockbuster movie in the Harry Potter universe taking its time and telling a somewhat complex story of family relations, unknown origins and he hunt for an evil wizard instead of delivering a by the numbers magic show is a good thing. That doesn't change that some parts during the first half of the film are bit hit and miss. The cast is not one of them, it works. Jude Law is a fantastic young Dumbledore, for example. The creatures are great too, making for some of the most wondrous moments, of course. The film shines during its gloomy and exciting finale though and ends with a major plot twists that will have Potter fans discussing until the next part comes out. That's this film's problem, in a few years it will be viewed as merely a transition piece to get to an even bigger film.
Beloved character Nude Scaramanga has returned for another entry in J.K. Rowling's distended cinematic universe as Doctor Who-ry Potter in Blandtastic Queefs: Donaldtrump Grumblekin's Series of Plantagenet Misdeeds. In this dreck-citing shit-eration of the lucrative franchise, Johnny Depp does his best impression of David Bowie humanizing Hitler while Eddie Redmayne, crippled by social anxiety disorder, bumbles about, mumbling, stumbling upon fantastical CG creatures while people either murder babies or reminisce about babies dying. There is a lot of child death in this one, usually juxtaposed with adorable cat, dog, and horse things creating a slapstick cacophony of cuteness. The mystery of whatever the hell this spinoff series is supposed to be about deepens as Rinkadink Bumblefudge (Jude Law) encharges Moot Salamander (Redmayne) with the task of finding Creedence Clearwater Revival (Ezra Miller) before the dastardly Evilicious McGriddlewand (Depp) can use John Fogerty's powers to prevent mankind from starting World War II. Meanwhile, every character is having relationship problems or a crisis of identity because Rowling has nowhere to go with this story and David Yates has no focus or vision, and they have to rely on the same angsty grim-dark themes they've used since he took over the Harry Potter film franchise 11 years ago. I was recently rewatching the old Bryan Singer X-Men movies (with Rifftrax, thankfully), and those movies have quite a bit in common with Yates' latest offering. Of course there's the reluctant protagonist struggling with their power and responsibility, the wizened figure goading them on their quest, and all of that other "Hero with a Thousand Faces" banality. But one thing they more specifically share is that they both invoke major human tragedies to add to the gravity of the narrative. X-Men starts in a concentration camp, its two sequels have a fairly obvious message about the AIDS epidemic and suppression of the LGBTQ community, and Fantastic Beasts: The Crimes of Grindelwald calls up the imagery of panzer tanks and mushroom clouds to add some fear and depression amidst the child murder. It's whimsical! As a pedagogical space for teenagers to meditate on their internal struggles of fitting in, knowing who to trust, finding your way, etc. I think that the Harry Potter franchise is at its most effective. When analyzing broader sociopolitical issues it fails to do anything past "it's complicated", so the movies had their time, place, and audience. "I'm sad, horny, and confused because my brain is still developing" works well for coming-of-age stories, but in Fantastic Beasts it's merely perfunctory as the writers obviously have no basis for character exploration besides that tried and tested formula. As for adding moral relativism and the darkness of our political zeitgeist into the mix, no wonder my seven year old son snorts bath salts and makes harsh noise wall music, he has conflated his inability to talk to pretty girls with the crushing collective guilt of the Western world's last century of atrocities. Congratulations David Yates - you are well on your way to becoming the Brexit equivalent of Michael Bay.
K Nife Churchkey
Super Reviewer
Fantastic Beasts: The Crimes of Grindelwald Quotes
There are no approved quotes yet for this movie.