Frankenstein Must Be Destroyed
(1969)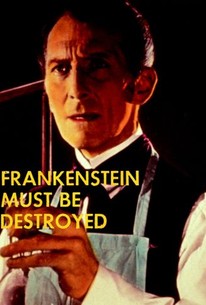 Frankenstein Must Be Destroyed Videos
Frankenstein Must Be Destroyed Photos
Movie Info
The key image of this film occurs early on, as a hideous monster removes its face, only to reveal itself as Baron Frankenstein in a mask. Hammer's fifth installment in the series sees the transformation of doctor into monster complete. Peter Cushing's portrayal of the Baron here is all insanity and hatred, rather than the misunderstood (if unethical) genius of previous entries. Frankenstein transplants the brain of an insane doctor into Freddie Jones' body, creating a pathetic, misshapen beast, while using blackmail and rape to control the people around him. This was director Terence Fisher's favorite film, and his pacing and composition have rarely been better. Jones (the nasty showman in The Elephant Man) is great at communicating the disorientation and helpless agony of his condition, and while Cushing's character is more one-dimensional than usual, he does his normal excellent job as the Baron. Hammer's next installment was the silly Horror of Frankenstein before Fisher returned to end the series with Frankenstein and the Monster from Hell.
Rating:
PG-13 (for violence and horror images)
Genre:
, , ,
Directed By:
Written By:
In Theaters:
On DVD:
Runtime:
Studio:
Warner Bros. Pictures
Critic Reviews for Frankenstein Must Be Destroyed
Audience Reviews for Frankenstein Must Be Destroyed
½
Cushing's Baron is completely unsympathetic in this film. He's lost whatever humanity he might have once had. His further descent into debauchery and madness is the selling point though. We don't need much of a monster in this one; Frankenstein himself is the monster this time.
Ryan Voss
Frankenstein Must Be Destroyed is a close second for my favorite Hammer Frankenstein movie (Curse of Frankenstein being my favorite.) Peter Cushing strips any and all sympathy you may ever have had for Baron Frankenstein and his scientific quest while Hammer kind of reinvents the Frankenstein legend. The last half hour of this movie and what they do with the monster is pure genius and all but forgives the plot holes (like a rape scene with the sole purpose of seeing Veronica Carlson in a nightgown that seems all but forgotten) of the first hour. Not to mention the total vacuousness of Carlson and Simon Ward's characters. But that opening that establishes Frankenstein in the run and the scene with him berating the other boarders? Magnificent...!
Michael Gildea
Super Reviewer
½
one of the best hammers i've seen. peter cushing is brilliant as the diabolical baron. however there's a rape scene in this which just feels gratuitous to me so i'm dropping it half star for that. how did it advance the plot in any way and why is it never mentioned again?
Stella Dallas
Super Reviewer
Frankenstein Must Be Destroyed Quotes
There are no approved quotes yet for this movie.