Frankenstein Must Be Destroyed
(1969)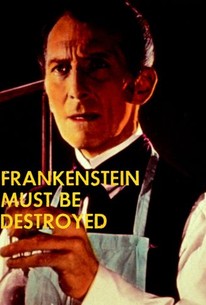 Movie Info
The key image of this film occurs early on, as a hideous monster removes its face, only to reveal itself as Baron Frankenstein in a mask. Hammer's fifth installment in the series sees the transformation of doctor into monster complete. Peter Cushing's portrayal of the Baron here is all insanity and hatred, rather than the misunderstood (if unethical) genius of previous entries. Frankenstein transplants the brain of an insane doctor into Freddie Jones' body, creating a pathetic, misshapen beast, while using blackmail and rape to control the people around him. This was director Terence Fisher's favorite film, and his pacing and composition have rarely been better. Jones (the nasty showman in The Elephant Man) is great at communicating the disorientation and helpless agony of his condition, and while Cushing's character is more one-dimensional than usual, he does his normal excellent job as the Baron. Hammer's next installment was the silly Horror of Frankenstein before Fisher returned to end the series with Frankenstein and the Monster from Hell.
Critic Reviews for Frankenstein Must Be Destroyed
Audience Reviews for Frankenstein Must Be Destroyed
Frankenstein Must Be Destroyed is a close second for my favorite Hammer Frankenstein movie (Curse of Frankenstein being my favorite.) Peter Cushing strips any and all sympathy you may ever have had for Baron Frankenstein and his scientific quest while Hammer kind of reinvents the Frankenstein legend. The last half hour of this movie and what they do with the monster is pure genius and all but forgives the plot holes (like a rape scene with the sole purpose of seeing Veronica Carlson in a nightgown that seems all but forgotten) of the first hour. Not to mention the total vacuousness of Carlson and Simon Ward's characters. But that opening that establishes Frankenstein in the run and the scene with him berating the other boarders? Magnificent...!
Michael Gildea
Super Reviewer
½
one of the best hammers i've seen. peter cushing is brilliant as the diabolical baron. however there's a rape scene in this which just feels gratuitous to me so i'm dropping it half star for that. how did it advance the plot in any way and why is it never mentioned again?
Stella Dallas
Super Reviewer
½
Dr. Baron Victor Frankenstein (Peter Cushing) has seen his experiments fail time and again, regardless of his intense personal effort. He has put his heart and soul, not to mention people's organs, into his creations, only to foiled with each one. The latest work has been ruined also, this time by the poor timed invasion of Dr. Frankenstein's workspace. The incident has convinced the doctor that he needs to bring in some help, as he can't handle the entire load himself. He turns his attention toward Dr. Karl Holst (Simon Ward), a local doctor who isn't as on edge as Frankenstein, but isn't above underhanded deeds. Frankenstein blackmails Holst into his service, to iron some research that could be the solution to Frankenstein's problems. The solution could rest within the mind of Dr. Frederick Brandt (George Pravda), who has cracked the code on cryogenics. He has been able to freeze a human brain, a process which Frankenstein is dying to put into motion. But Brandt has gone insane and is locked up in a mental institution, which of course means his precious data is locked up as well. Frankenstein believes if he can transplant Brandt's brain into a normal donor, the madness will vanish. Can Dr. Frankenstein make this experiment work and unlock the cryogenic data, or will this be another failure? As Hammer rolled out sequels, the studio's flame seemed to be close to extinction, but as it turned out, the fire still burned. In Terence Fisher's Frankenstein Must Be Destroyed, we see that with the right assortment of talent, in front of and behind the camera, Hammer could knock out some terrific horror cinema. In this, Hammer's fifth Frankenstein picture, you'd think the source would be thin, as it was with the studio's Dracula movies. But instead, Fisher is able to weave in some great new twists and retain the tone of the series, which results in a well crafted production, perhaps one of the director's finest projects. I do think the writing, which is superb on the whole, does abandon some subplots in haste, which is a disappointment. If these smaller lines were fleshed out more, who knows how good this film could have been. The cast is excellent as well, with Peter Cushing out in front of the pack. His turn is one of his best in the series, focused and on his game, which adds a lot to the movie. The rest of the cast is solid also, which is good news, since the movie follows a decent number of characters. I would rank this with Hammer's top genre pictures and right behind Frankenstein Created Women ( which to me is the best in the series)
David Ladd
Super Reviewer
Frankenstein Must Be Destroyed Quotes
There are no approved quotes yet for this movie.