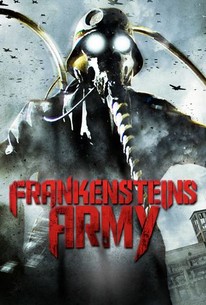 Frankenstein's Army
2013, Action/Horror, 1h 24m
26 Reviews
2,500+ Ratings
Where to watch
Rent/buy
Rent/buy
Rent/buy
Rate And Review
Frankenstein's Army Photos
Movie Info
A squad of Russian soldiers must go to a remote East German village to locate missing comrades in the waning days of Word War II. Unearthing a plot to resurrect fallen soldiers, the squad becomes the target of cobbled-together monsters.
News & Interviews for Frankenstein's Army
Audience Reviews for Frankenstein's Army
Found footage films have always been hit or miss. It's certainly a refuge for lazy filmmakers, who want to make a movie for cheap or they can't afford top-notch cameras. But if done right, it can lead to some really cool and unique experiences. Films like Rec, Troll Hunter, The Bay, and Chronicle prove that when done right, it can be a really effective tool. In the case of Rec, it actually led to a far more intense experience full of great scares. But for the lazy filmmakers, the use of the found footage style can lead to some really nauseating scenes and it ultimately becomes a very annoying and tedious experience. So where does this film fall into? I think it's the first WW2 found footage film, as far as I'm aware, and I think it falls into the middle. I do think that the found footage style was chosen because of the fact that the budget simply wasn't there. I don't think the camerawork is as nauseating as in the absolute worst of the genre, but it's not the best as I don't really see how, other than for story reasons, how the style really benefits the film or it makes the scares that much more intense. It just doesn't, at least in my opinion. The budget that wasn't spent on actually getting decent cameras went to, probably, the best part of the film. And that is the design of the monsters that Frankenstein constructs. If anything, the film is more of a showcase for those monsters than it is a film that wants to tell a story about the monstrosities that the Nazis did during the war, even if this is a very exaggerated version of that. I just think whoever came up with this movie had a lot of sketches for great monsters and he needed a way to get those monsters on screen. And what better way to get them on screen than tying them to experiments the Nazis were doing in order to create stronger soldiers than was available at the time. The problem with these monsters, while the designs themselves are really freaking cool, because the budget really isn't there and what WAS there was spent on the monsters, don't really look like the monstrosities they're supposed to be. They don't look like a disturbing melding of man and machine. The product of the mind of an insane man given the freedom to experiment with live human samples as he saw fit. Much like sci-fi films of the 50s, where it was obvious that it was a man in that alien costume, the same principle applies here. You know that it's a man, or woman, underneath that costume so that, to me, certainly takes away from how scary they come across. I can't even begin to describe the monsters, let's just say that they're still, budgetary limitations aside, pretty damn cool to watch. I just wish that the film's story was a little bit more compelling, because it feels like there's no reason for what's going on here. It's just a showcase for one guy's creativity. And I think that's fine, but the story definitely needed to be a little more compelling, particularly when the scares aren't really there. And there's not much gore either. Still, this film falls into the middle of the found footage genre. Not as bad as it can be, but nowhere near as close as the best of the genre. It's a decent film to watch if you have 80 or so minutes to waste.

'Frankenstein's Army'. Big Daddys and the like from BioShock with a much shakier cam than the game offers. Didn't work for me.