Frayed
(2007)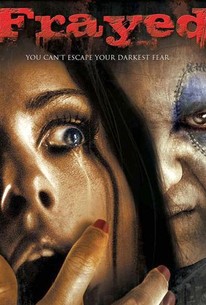 AUDIENCE SCORE
Critic Consensus: No consensus yet.
Movie Info
Thirteen years after being institutionalized for beating his mother to death, a violent sociopath escapes from the asylum and returns to his small town to finished what he started when he was just a young boy. It was September 12, 1994. Police could never have anticipated the horror he would witness when summoned to Sheriff Pat Baker's typical suburban home in Smith Haven, Washington. Eight year old Kurt was acting up at his sister's birthday party when his mother scolded him and sent him to his room. Later, when his mother went up to check on him, Kurt snapped - beating her to death with a baseball bat as the family video camera recorded every lethal blow. Thirteen years later, Kurt escapes from Yellow Glen Rehabilitation Center and begins making his way back home. As fate would have it, Kurt's teenage sister Sarah (Alena Dashiell) and a small group of friends are camping in the very same woods where the murderous sociopath has just escaped. Now torn between protecting his town and saving his son, Sheriff Baker begins searching the area for Kurt as the body count continues to grow, and a dark secret from the boy's evil past slowly comes into focus.
Critic Reviews for Frayed
Audience Reviews for Frayed
When a small town sheriff gets the call he hoped would never happen it seems his son who has been locked up for many years inside a mental hospital has just escaped he must now make sure and try and keep the town he has sworn to protect safe as well as his daughter who just so happens to be out in the woods behind the hospital on a camping trip. Thats more or less the plot to this low budget horror movie that does so happen to come with a what the hell twist at the end of course i didnt put the twist in the review just for those that watch this will have to look out for it overall though its not a bad movie but its also not one of the great ones watch at your own risk.
Frayed Quotes
There are no approved quotes yet for this movie.