Free Samples
(2013)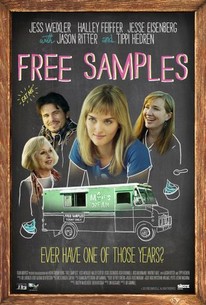 Movie Info
Jillian (Jess Weixler), a sardonic, bitter, verbose, hungover, law-school dropout, has a really bad day working on an ice-cream food truck as a favor to a friend. She treats her bizarre customers with the utter lack of respect she thinks they deserve, but the day turns out to be an important one for her as an old relationship comes crashing down, while another one might just be starting up. Jesse Eisenberg and Tippi Hedren co-star in this indie comedy. ~ Perry Seibert, Rovi
Critic Reviews for Free Samples
Audience Reviews for Free Samples
½
After leaving law school, Jillian(Jess Weixler) spends most of her time hanging out with her friends back in her hometown. Waking up one morning after a night of drinking and socializing, she finds an empty cowboy hat in the bed next to her. Making matters even worse is her friend Nancy(Halley Feiffer) drafting her to hand out free samples from her ice cream truck all day. "Free Samples" does itself no favors by starting with the very disturbing sight of Jesse Eisenberg wearing a cowboy hat. Even if it was not slapdash and episodic, the movie would have had a hard time recovering from that. Plus, the movie is forced in being judgmental in showing what Jillian's life would be like if she does not get her life back together, instead of being relaxed in respecting a character's need for a break. On the plus side, there is a very neat turn from Tippi Hedren but that comes too little, too late.
Jillian is a mess of a human being and you just can't look away as she engages with the various kooky people in the community. This was a slow build, but eventually you find yourself wrapped up in this story and when it ends you want more. Great cast, good story, perfect ending.
Heather Metzger
Oy, another indie dramedy makes its way past my gaze... Thank goodness "Teeth's" Jess Weixler is insanely engaging, because this is yet another indie film that really doesn't have any new insight or anything worthwhile to say. I will never understand for all the work that has to go into making a movie, why such talented people invest it in something so forgettable. I didn't laugh once, pretty sure I never felt anything other than apathy. The script is soulless; the directing competent, but not noteworthy. The only thing about this film is Weixler who has to carry the whole film. Her character... is talked about often enough to beat the audience over the head what a horrible person she is... But, where is it? She's sarcastic and doing a favor that really has no consequences. She's referred to as a borderline alcoholic, but in all her episodes in the truck, never yearns for a drink. Perhaps that's the message that Jillian is not as bad as she thinks she is... That means what to anyone else? The character and script are not there to support the choices Weixler has made about the character she's playing. That's disappointing as all 80 minutes of this film could serve as a nice acting reel for her alone. Sadly, this credit will not serve anyone else the same benefit.
Robert I (Master of All Movies)
Discussion Forum
Discuss Free Samples on our Movie forum!