Fun in Acapulco
(2000)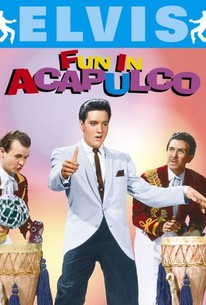 Movie Info
Elvis Presley stars as Mike Windgren, a former trapeze artist who's suffered from vertigo ever since accidentally dropping his partner during a performance. Working as a lifeguard/entertainer at an Acapulco resort, Mike falls in love with social director Margarita Dauphine (Ursula Andress). With her help, he overcomes his fear of heights in a spectacular high-dive finale. Presley songs featured include "Vino, Dinero y Amor," "Marguerita," "Bossa Nova Baby" and the title tune.
Critic Reviews for Fun in Acapulco
Audience Reviews for Fun in Acapulco
The plot developments in this movie are absolutely hilarious. Actually this could have been better had they just hired better actors.. Elvis is easily the best one. Between the bad acting and the child-manager and a buncha dopey songs, it unfortunately isn't terribly memorable. But Elvis looks amazing in bull fighter outfits, of course.
Jenna Ipcar
★★ (out of four) Well...I am at least glad that Elvis is having fun in Acapulco because I didn't. For all of Elvis' great musical qualities, he sure wasn't much of an actor. That's okay, though, since he still had a few movies that were entertaining and watchable. This one, however, just didn't do it for me. This time Elvis stars as Mike Wingren, a former trapese artist. He accidently dropped his partner years ago and now he suffers from vertigo. Now, he works at a posh resort in Acapulco. There the sexy social director (Ursula Andress) helps him get over his phobia in order to be in a huge production. Hokey, but will please fans of Elvis' movies. [IMG]http://img.photobucket.com/albums/v48/Zeppo1/FuninAcapulco_zps17f8c2d2.jpg[/IMG]
Steve Smith
½
Pleasant Elvis vehicle with good, if unmemorable songs, beautiful locations, quite a bit of beefcake including Elvis himself looking extremely fit and a ravishing Ursula Andress.
Fun in Acapulco Quotes
There are no approved quotes yet for this movie.
Discussion Forum
Discuss Fun in Acapulco on our Movie forum!