Godzilla
(1998)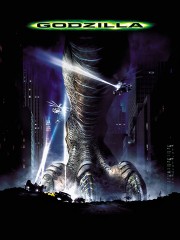 Godzilla Trailers & Photos
Movie Info
Toho's fire-breathing monster is back, but his roar is the only thing that hasn't changed. The computer-generated Godzilla threatens to destroy NY, managing to escape the military by hiding underground. Eventually Godzilla's babies hatch in Madison Square Garden where they run amok for awhile. The film is complete with a cheesy romance.
more
Sony Pictures Home Entertainment
Cast
News & Interviews for Godzilla
Critic Reviews for Godzilla
Audience Reviews for Godzilla
In one scene, Matthew Broderick buys pregnancy tests from the local store and uses them to find out Godzilla is...pregnant. He deduces it's because Godzilla is asexual, to which his girlfriend replies, "where's the fun in that." This is an example of how remarkably lame and poorly constructed this film is. Dismissing the fact the monster keeps changing size as well as stupid Mayor Ebert and his sidekick Gene (way to bash the critics Roland Emmerich), Godzilla is a lame studio attempt to cash in on the Jurassic Park craze by using an established brand. But like Xander Harris said, Matthew Broderick killed a big, dumb lizard that was NOT Godzilla.
Shlock artiste Emmerich regurgitates his "blockbuster" formula and directs a bigger, leaner, CGI generated, fire breathing lizard from traditional home stomping ground Japan to New York City where we discover ... but that would be telling. Jean Reno is the most fun as the Frenchman in the Big Apple.
Godzilla Quotes
Colonel Hicks: I want it all sealed up.
Sergeant O'Neal: Yes sir! How...how do we do that, sir?
Colonel Hicks: You fill 'em up with cement, brick 'em up, put landmines in 'em, bombs, I DON"T CARE! Make sure the damn thing doesn't leave the island!
Dr. Niko Tatopoulos: That's a lot of fish.
Dr. Niko Tatopoulos: I've always wanted to join the French Foreign Legion.
Audrey Timmonds: Who was that French guy, anyway?
Dr. Niko Tatopoulos: Oh, just some insurance guy.
Discussion Forum
Discuss Godzilla on our Movie forum!
News & Features